Listen from Soundcloud at the bottom of the page
Season 3, Episode 2
The Relationship:
Phil Buchanan is the president and founding CEO of the Center for Effective Philanthropy (CEP), a nonprofit organization that focuses on data-driven and evidence-based insights to help philanthropic giving. He is also the author of the recently published book, Giving Done Right: Effective Philanthropy and Making Every Dollar Count.
Dr. Tiffany Cooper Gueye is a managing director at Blue Meridian Partners, a philanthropic funding collaborative, and also currently serves on the board of CEP. She also spent twenty years working at and eventually leading BELL (Building Educated Leaders for Life, now known as BellXcel), a nonprofit that partners with schools to increase learning time through summer and after-school programs.
The Conversation:
Often, nonprofits feel pressure to portray their organization in a constant positive light, especially to funders. But that bubble of positivity can obscure real issues facing nonprofits, including the need for overhead funding like training or providing benefits that allow practitioners to afford to stay in an organization.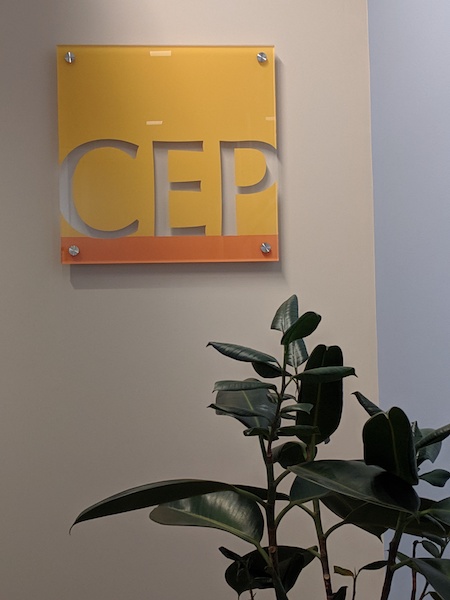 The Center for Effective Philanthropy is a nonprofit that aims to elevate nonprofit voices and perspectives so that funders can better understand where those needs are coming from. As a former nonprofit leader who is now on the funding side of the relationship, Tiffany knows the value of donors who have had the same experiences as those in their grantee organizations. The benefits of diversity in donor backgrounds extends not just to her experience as a nonprofit leader but as someone on the receiving side: the beneficiary.
As someone situated at an intersection of the grantee-grantor relationship, Phil talks about how he thinks it's crucial for nonprofits to be able talk about the brutal truth of funding needs without worrying about losing funding. While these conversations should be able to happen, Tiffany points out that there are not always opportunities that open the door for that kind of honesty when funding is on the line. What's more, there are dynamics of demographic privilege at play that influence who is allowed to say what, and who can get away with asking for more.
The culture of nonprofits needs to change and that requires philanthropic help. Tiffany and Phil discuss strategies of fighting race and gender inequity among nonprofits and foundations alike, establishing nonprofit employment as an affordable long-term career, and creating the work-life balance in a sector that often defaults to always being "on".
---
Topic Timestamps
"One of the most pernicious obstacles dogging nonprofits seeking funding is the impulse to project positivity"
00:00 – Sandy introduces Phil Buchanan and Tiffany Gueye
1:27 – "I wonder what you're going to do to make sure you don't turn into a monster, you know, as a funder": Tiffany talks about how both donors and nonprofit leaders are trying to run an organization; donors have many of the same experiences as grantees and it is important to keep yourself grounded and acknowledge that no one is perfect.
2:46 – The importance of different types of diversity: Tiffany wasn't just a nonprofit leader, but she was on the other side as a beneficiary. It's valuable to have someone on the funding side who intimately know those experiences.
4:33 – CEP brings voice of the grantees to the donor process and avoiding the bubble of positivity involves creating deep relationships with grantees, trusting that grantees will feel that they are partners and be honest.
"Nonprofits need to step up, too"
5:27 – There are these channels for feedback, but will nonprofits really speak up? There is the challenge of speaking truth to power. Tiffany challenges Phil to talk more about his belief that nonprofits need to step up.
5:54 – Part of the role of CEP is elevating the perspectives of nonprofits so that those voices are heard during the funding process and the data has shown that funders who regularly get feedback do change their behavior, but there are also those who stick with the status quo and don't.
7:00 – In his experience, nonprofit leaders have said things to Phil that they feel like they couldn't say to funders because they're worried it will affect their funding. Phil argues that it's important for nonprofits to be honest and direct about what they need from funders and have the faith that they won't be punished for saying "I need you to fund me in a different way."
8:23 – Tiffany concedes that it's hard to disagree with the idea of that, but that, in her experience, there aren't many opportunities to make that case and tell a funder that they need money in a different way.
8:54 – Phil has walked away from funding opportunities that were too prescriptive and has questioned restrictive provisions on grants, but not with great results on the funding side. But Phil believes that it is possible. As an example, CEP models a built-in approach to compensation and benefits: "If we're important to you, don't you want us to pay our staff and afford to live?"
11:28 – But that doesn't happen.
"Can you, foundation, change the way you think about overhead?"
11:55 – It's not about occasionally asking for funding for planning work, it's about changing the way that foundations think about overhead within the structure of the grantmaking process
12:29 – Those conversations don't happen, but Phil says they HAVE to happen. Organizations need to be funded in a way that allows folks to stay long term.
13:45 – Is it naive to think that it can shift? Funders need to take responsibility and ask those questions: what do you pay, what are your benefits? It's irresponsible to not ask.
14:23 – Tiffany wishes donors would ask those questions but wonders if Phil is able to get away with certain things—like building in benefits into the CEP funding model—as a white male leader? What are the race and gender dynamics at play?
"You can't eliminate bias but you can reduce the opportunity for it to show up"
15:09 – Gender and race pay inequities exist and philanthropies should raise flags and start helping to equalize.
16:16 – Equalization should also be happening internally; you can have equity workshops, but are these organizations employing basic strategies to mitigate inequities? Phil gives examples of CEP's efforts for reducing opportunities for implicit bias.
17:53 – Intentionality is key, but there's a disconnect between rhetoric and action and there's a lack of implementation. You can't eliminate bias but you can reduce the opportunities for it to show up in decision making if you're committed to it.
18:36 – We hear a lot about racial equity—but how can that show up in the choices we make? Funders need to think about holding an organization accountable to equity and pay across race and gender lines as part of the selection process.
"How can these people afford to work here for too long and not be building toward retirement?"
20:34 – There is a certain amount of guilt about fundraising where it directly benefits yourself. Tiffany discusses her regrets about when she was a nonprofit leader and talks about things like parental leave and retirement planning. Tiffany wishes there was more space for leaders and believes that there's a role for philanthropies to play in suggesting more attractive benefits programs
23:24 – Phil talks about his biggest blindspot with the culture of CEP: the work life balance. When leaders demonstrate having that balance themselves, by not emailing in the evenings or by leaving from work to watch they're kids' sports games, it empowers others to have that balance.
Wrap Up
25:38 – Tiffany and Phil close up the conversation
26:25 – Outro: Recycle some cardboard, carpool with a friend, and share this episode with someone you think should hear it
---
Ways to listen to The Nonprofit Experience:
Like what you hear? Leave us a review on Apple Podcasts! It makes a big difference.