Listen from Soundcloud at the bottom of the page
Season 3, Episode 1
The Relationship:
Lori Shinton is the president and CEO of Hands on Nashville, a volunteer resource center connecting volunteers to more than 150 partner organizations across Nashville. Usually that means Lori is directing volunteer efforts to address homelessness or gentrification. Other times, as with the 2010 floods across Tennessee, Hands on Nashville battles natural disasters too.
Regine Webster serves as chair-elect for Hands on Nashville and is also vice president and founding executive director of the Center for Disaster Philanthropy which focuses on maximizing donor impact in response to disasters across the globe. Based in Nashville, the 2010 floods brought her home and her work together.
The Conversation:
Through the lens of the devastating floods across Nashville and Middle Tennessee in May of 2010, Lori and Regine talk about disaster response and the challenges organizations and communities face in the aftermath.
For organizations that respond to disasters, the outpouring of support following destructive events can actually bring those organizations out of financial hardship, but one of the biggest pitfalls is not having a natural way to scale back to pre-disaster operations.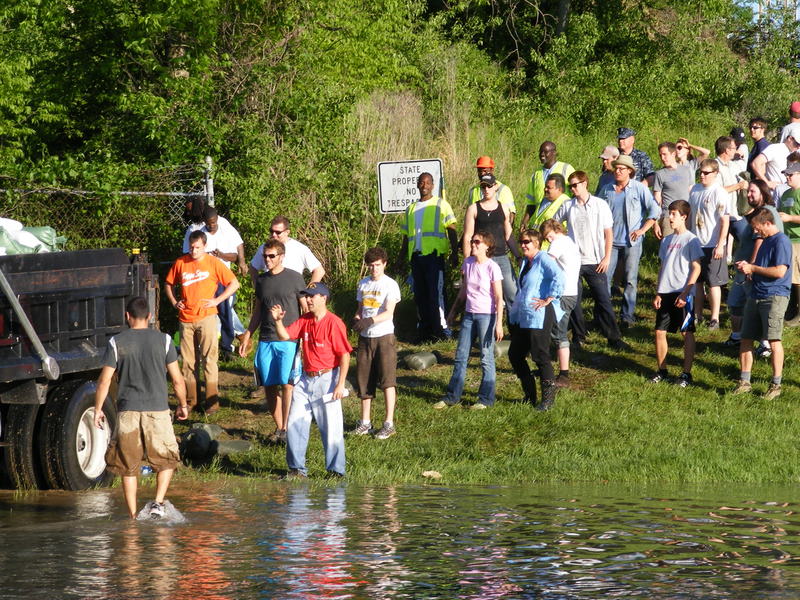 Lori and Regine also discuss how interest, volunteer time, and money often evaporate once the disasters leave the headlines, even though much of the work to be done may come months and years later.
For organizations responding to disasters and community needs, in-kind donations are often referred to as "the second disaster." Nonprofit work slows down when organizations don't have the time, space, or staffing capacity to sort through and deal with potentially unnecessary or ill-timed in-kind donations. When it comes to donations, cash is king and this is borne out in the data showing how every dollar can be turned into clean water, shelter, and more.
The two also talk about disaster fatigue and the numbing effect of increasing disasters and the nonstop news cycle.
---
Topic Timestamps
Prologue and introduction
00:00 – Prologue
00:18 – Introduction to Lori Shinton and Regine Webster
01:29 – Lori Shinton and Regine Webster talk about their experiences of the 2010 flooding in Tennessee
"Let's talk about disaster a little bit"
04:01 – Lori talks about how disaster events have lifted HON out of financial hardship
05:00 – Organizations like HON are called to do more during disasters, but it can be difficult to shrink back down to pre-disaster operations
07:03 – Lori gives some stats from HON volunteering between May and December 2010
07:41 – Regine talks about successful recovery and the two talk about difficulties in getting people to give support and volunteer after the disasters have left the headlines
"How do we honor the gift and what can we do with it?": In-kind donations
11:13 – Ill-timed or unneeded in-kind donations can be the "second disaster" for organizations responding to community needs and how "cash is king"
14:53 – The Center for International Disaster Information provides advice about in-kind donations and they articulates how cash is the best donation (see below for video on cash donations)
"An ounce of prevention": Patterns of giving and the monetary value of readiness
15:41 – Most disaster giving happens within the first 60 days as "relief" and only 3% of individual donors give repeat disaster gifts
17:19 – The highest motivations for giving are the magnitude and a connection to the place. Disasters are on the rise, but it is hard to tell the story of readiness and preparation
18:50 – Even beyond disasters, prevention efforts are unfunded and harder
19:29 – An ounce of prevention is worth a pound of cure: often fiscally at a $1 to $7 ratio up to a $1 to $18 ratio. A similar ratio exists in the return on investment in volunteerism
Disaster fatigue and the "numb factor"
20:29 – Disaster fatigue in individual and foundational giving
22:17 – Do our language choices effect the numb factor?: "There's only so many times we can hear 'This is the largest storm to ever make history'"
23:10 – With the constant attention-grabbing news cycle, it can be hard to figure out what to respond to
23:55 – Lori notes that when people are directly impacted there is an immediate response, but muses that it dissipates quickly
Wrap up
24:58 – Lori and Regine close up the conversation
25:27 – Outro: Plant a tree, support your local library, and give us a five-star review on Apple Podcasts
Center for International Disaster Information video on cash donations:
Ways to listen to The Nonprofit Experience:
Like what you hear? Leave us a review on Apple Podcasts! It makes a big difference.
---
Images of 2010 Tennessee flooding courtesy of Hands On Nashville