By Sandy Cyr
Change happens to individual people, but structures and systems shape the way individuals live. So how can we work on both fronts? How can we be a stronger, better, more compassionate person and how do we create systems and structures that take care of everybody?
The Omega Institute was born out of the belief that if you if you work on yourself, if you become a kinder, more compassionate person, the world will become a better place. Nestled on 250 acres of picturesque land in the Hudson Valley of New York, Omega has served as a retreat center for individuals and organizations. Now in its 40th year, almost 1 million people have participated in Omega's workshops, conferences and retreats that are designed to inspire personal and social change.

When Omega opened in 1977, the ideas of yoga, meditation, and holistic healing were fringe concepts. While their focus was on the spiritual and psychological development of a person, Omega has always been very connected to the idea that they wanted to see people and society change. Over the past few decades, there has been a growing understanding that it doesn't have to be one or the other. "We have a point of view," says Carla Goldstein, Omega Institute's chief external affairs officer, "which is that the well-being of every individual is deeply connected to the well-being of every living thing."
Omega works with individuals who come to them seeking to make a positive change in their own lives and in the lives of others. Through their programming, they help people find meaning, purpose, and inspiration, as well as help them to learn new things and grow. "I think that that is a huge part of what we do, and what we do really well, is inspire people," says Goldstein. "Most people care, but there are lots of reasons that they are blocked from acting on what they are passionate about or what they care about."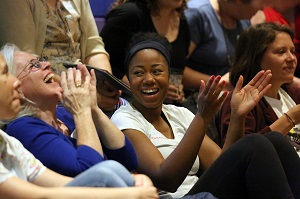 Feelings of isolation around what they care about can prevent people from taking action. By creating a community that uplifts people and helps people tap their own sense of inspiration, participants in Omega's programs develop the understanding that they can make positive contributions in their communities.
"We cultivate a sense of purpose and then at the same time we work with organizations that are working to change systems and structures," says Goldstein. "We work with individuals who are coming to work on their own lives, and we work with organizations to help strengthen their mission and impact. So we are leveraging our impact by uplifting the impact of others."
As a host, Omega is an organization with their own set of values. In recent years, they have done a lot of work on looking at what they feel as an organization are some of the most important issues relating to structures and systems. Omega is very concerned about climate change and sustainability, women's equality, and social justice.
According to Goldstein, "the way that we are approaching societal issues is that we are conveners on some of the more critical questions that society is facing today." Omega has invested a lot of thinking and energy around how to bring leaders together. Through their programming, they convene conferences and develop relationships with and support the organizations that they feel are on the leading edge of societal change. By uplifting and supporting individuals and organizations in the nonprofit sector, they are able to engage in social change on a structural and systemic level.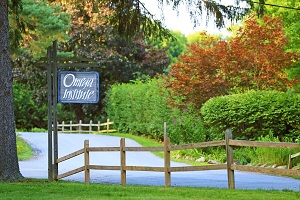 Omega clearly understands the role of the individual within a community. As one of the largest economic engines of the Hudson Valley, they generate almost $30 million in sales for the small community of Rhinebeck, New York. As a result of their economic impact, they work very intionally in a regional way to create a model for what a regenerative community can look like. "There's an integrated network, regionally, so while we focus measuring our impact in terms of the ripple out of how do people learn and grow, how do organizations get strengthened, we also focus on looking at our regional impact. What are we doing right here at home in our immediate community of the town of Clinton, in our zip code community of the town of Rhinbeck, in our Hudson Valley, in the state of New York – what role can we play?" asks Goldstein.
As they approach their 40th anniversary, Omega has reflected on where they have been and what direction they are going in. Omega began at a time when holistic practices were not mainstream, and stuck with it because they felt the world needed it. More and more, our society has grown to embrace and understand the relationship between individual and community wellness. By evaluating the work they have accomplished, and by asking themselves how they can inspire holistic, conscious individuals and communities, Omega is looking to scale up that impact they can have.
---
Carla Goldstein, JD, is Omega Institute's chief external affairs officer and cofounder of the Omega Women's Leadership Center. An attorney with 25 years of experience in public interest advocacy, she has contributed to more than 100 city, state, and federal laws, and has worked extensively in city and state government on issues related to women's rights, poverty, public health, and social justice.
Sandy Cyr is the Managing Editor for the Philanthropy Journal, and a fan of all things related to the nonprofit sector.