News about grants, gifts
Walmart and Sam's Club met their goal of more than $2.5 million in customer and associate donations for the Walmart 2018 Hurricane Relief Fund at Foundation For The Carolinas. The goal will trigger Walmart's matching donation of $5 million, bringing the current total to more than $7.5 million.
The North Carolina Arts Council has awarded grants totaling more than $7.2 million to nonprofit arts and cultural organizations to support arts programs in all 100 counties.
Lee and Mona Lisa Wallace made a substantial gift to the Novant Health Rowan Medical Center Foundation, bringing the total amount raised through the Hope. Healing. Healthcare. capital campaign to $7.425 million, within reach of the $12 million capital campaign goal. In recognition of their gift, the new cancer center will be named The Wallace Cancer Center.
Novant Health is launching new investments in the Charlotte community, beginning with providing $300,000 in funding to impact-based programs. Novant Health will focus its charitable contributions and strategic investments on improving outcomes in three areas: health and human services, environment and education.
T.J. Warren, player for the National Basketball Association's Phoenix Suns and former NC State forward, donated $50,000 to support Habitat for Humanity of Wake County's response to Hurricane Florence. The NBA Players Association has also matched his contribution with a $25,000 gift.
News about people, groups
HandsOn Northwest North Carolina hosted Governance on September 20th.
United Way of Alamance County has partnered with Alamance County NAACP, Alamance County Public Libraries, and Alamance Community College (Dillingham Campus) to help boost registered voters in their county.
News about opportunities, initiatives
A toll-free legal aid hotline (1-833-242-3549) is now available for survivors of Hurricane Florence in North Carolina. The service, which allows callers to request the assistance of a lawyer free of charge, is a partnership between the North Carolina Bar Association Young Lawyers Division with support from the North Carolina Bar Foundation, Legal Aid of North Carolina, the American Bar Association Young Lawyers Division, and the Federal Emergency Management Agency.
Share your opinions! Jen Newmeyer is working on a book about digital fundraising and innovation and is looking for some insight into people's perception of digital overall, and more specifically different aspects of digital-like content, marketing and fundraising. The 6-question survey should takes less than 5 minutes and all participants will be entered to receive a $25 Amazon gift card.
Nasher Museum and Arts Access N.C. are hosting Workshops for All Audiences: Museums as Welcoming Spaces on September 24th.
North Carolina Community Foundation is accepting contributions to support their Disaster Relief Fund to help those affected by Hurricane Florence.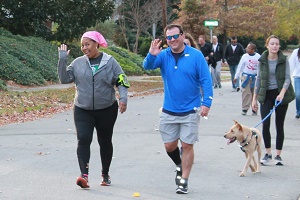 The Ron Johnson Red Ribbon Run & Aids Walk will take place November 17th.
The Natural Learning Initiative College of Design at North Carolina State University hosts the 16th Annual Design Institute on October 4th- 5th.
The North Carolina Coalition Against Sexual Assault will host the 2018 NC Sexual Violence Primary Prevention Summit on November 14th -15th at the Wyndham Garden Greensboro.
Black Wall Street: Homecoming will take place September 26th -28th.
GreenHill is seeking all interested North Carolina artists to apply for the Pop-Up residency and Open NC Art Review programs.
The Charlotte Post Foundation's 3rd Annual Golf Tournament will be held October 12th at Birkdale Golf Club.
The Association of Fundraising Professionals North Carolina Triad Chapter will host Philanthropy and the Hispanic Community on September 25th.
The inaugural Croatan Forum will take place October 2-4 in Durham. The event will kick off with a keynote conversation between Laura Benedict, President of the Self-Help Ventures Fund, and James Sills, President & CEO of Mechanics & Farmers Bank.
---
If you are interested in having your organization's news announced in the next News Bits, please send announcements or press releases to news@philanthropyjournal.com.