News about grants, gifts
The Housing Opportunity Foundation awarded 15 area local nonprofits and eight area Habitat for Humanity agencies $64,999.70 through the Realtor®-directed Habitat Support and Community Grants Programs at their annual Opening Hearts, Opening Doors Luncheon. In addition to the two grants programs, the Foundation presented a check for $20,555.43 to the Men's Shelter of Charlotte to assist in the renovation of their North Tryon Street Campus.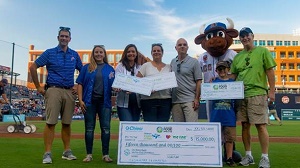 Chiesi closed out the season with the Durham Bulls on August 31st with an on-field game ball and check presentation of $5,000 each to three local nonprofits – Inter-Faith Food Shuttle, Children's Flight of Hope and Me Fine Foundation.
The Craven County Community Foundation awarded $177,020 in local grant awards from the community grantmaking fund and local component funds.
SECU Foundation presented a $365,000 ceremonial grant check to Carteret County Domestic Violence Program to help fund the construction of a new 5,000 square foot shelter. The grant will support SAFE, a Shelter and Family Empowerment facility in Carteret County that benefits victims and families of domestic violence.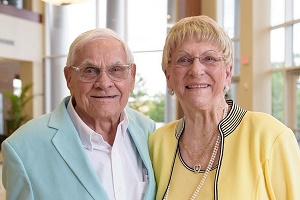 Peter Mahler, founder of Triad-based PAM Trading Corporation, and his wife, Mary, along with their daughter Punkin Parker, her husband, Alan, and son Alan A., as well as their daughter Janet Fisher and her husband, Wayne, made a seven-figure gift to High Point University, bringing their lifetime giving to the university to more than $2 million. The gift recognizes the university's impact on the city of High Point.
News about people, groups
Wine To Water hosted a weekend-long conference starting September 6th- 9th at the Chetola Resort and Spa in Blowing Rock.
Housing for New Hope will be holding a special groundbreaking ceremony in October for their transitional housing property, the Dove House, which will be receiving a complete renovation this fall to create more affordable housing.
United Way of Central Carolinas' Board of Directors selected Laura Clark as the organization's new President and Chief Executive Officer effective September 7th.
Take the Lead's Kickoff Event took place on August 6th.
The Carolina Hemp Festival took place August 30th- September 1st.
News about opportunities, initiatives
The NC Rural Center will be hosting Zero Barriers Policy Roundtables in seven towns around the state this fall. The Rural Center needs your input on what policies they should support in 2019 to shape the future of rural North Carolina, and will use your feedback to shape their policy agenda for next year's General Assembly session.
Tosco Music Party will take place September 15th at Knight Theatre at Levine Center for the Arts.
The NC Rural Center's Rural Assembly will take place November 15-16 at the Hilton North Raleigh. Bill Bynum, chief executive officer of HOPE (Hope Enterprise Corporation, Hope Credit Union, and Hope Policy Institute), has been confirmed as a keynote speaker for this year's event.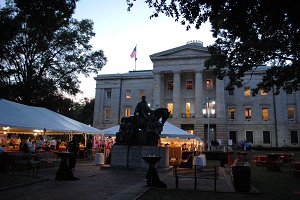 The State Capitol Foundation will host their annual Oyster Roast fundraiser at the State Capitol Friday, October 12 from 7-11 p.m. The event is the primary fundraiser for the N.C. State Capitol Foundation, whose mission is to restore, preserve and conserve our state's historic Capitol building.
Stars of Education will take place on October 10th at the Raleigh Marriott City Center.
Fighting for the Era will take place on September 17th at Meredith College.
The Charlotte Post Foundation's 3rd Annual Golf Tournament Fundraiser will take place on October 12th.
---
If you are interested in having your organization's news announced in the next News Bits, please send announcements or press releases to news@philanthropyjournal.com.