News about grants, gifts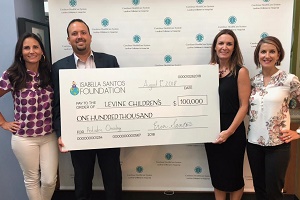 The Isabella Santos Foundation presented a $100,000 donation to Atrium Health's Levine Children's Hospital on August 1st.
On August 9th, Wells Fargo and the Military Warriors Support Foundation presented Army veteran, Bobby Henline, with his keys to a mortgage-free home in Sanford.
SECU Foundation provided a $400,000 grant to the North Carolina Agricultural Foundation, Inc. for the construction of a new dormitory being built at the North Carolina Future Farmers of America Center in White Lake on August 3rd.
Brunswick County Community Foundation announced $4,630 in local awards from its community grantmaking fund on August 6th.
News about people, groups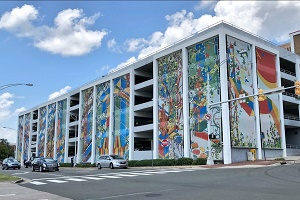 Durham Arts Council announced complete installation of the Durham SmART Initiative– The Corcoran Garage Art Wrap on August 2nd.
Triangle ArtWorks gathered at Trophy Tap & Table for First Friday on August 3rd.
Eastern North Carolina's Stop Human Trafficking Now Rockin' for a Free World took place on August 4th.
The Triangle Business Journal hosted the 2018 CEO of the Year Awards at the Umstead Hotel and Spa, where Mako Medical Laboratories CEO was ranked as One of the Top CEOs in North Carolina.
Athenian Press hosted Art of Resistance: Exhibit & Auction on August 11th.
Louisburg College announced Curtis Hayes as its new Director of Communications on August 6th.
The Equity Paradigm's Foundation in Racial Equity Workshop was held on August 12th.
News about opportunities, initiatives
Luxury Meetings Summit will take place on November 29th.
LitSPARK is seeking program volunteers for September 15th and 16th in downtown Raleigh.
ShiftNC's Delivering Trauma-Informed Sexuality Education will take place on August 23rd in Durham.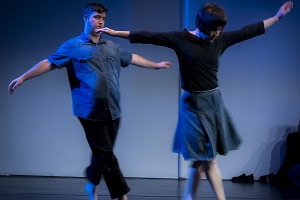 Dance Project and GreenHill's Ornament Performed will be presented on October 11th.
The North Carolina Planned Giving Council's Quarterly Member Meeting: Comprehensive Campaigns will be held September 13th at UNCW's Warwick Center.
Orange County's LocalFest will take place on September 29th at Blackwood Farm Park in Hillsborough.
SOAR Outreach's Parents Helping Parents Support Group will meet on September 6th and 20th at Loading Dock Raleigh.
The 2018 Inaugural Croatan Forum will take place October 2nd- 4th in Durham.
Marbles Kids Museum will host Kick-off to Kindergarten on August 18th.
Artist applications are available for the 2018 Fall Arts Fair at Fred Fletcher Park.
International House's Diplomacy Begins Here Summit will take place August 28th-30th.
The Winston-Salem Chamber of Commerce is partnering with Belk to host the 2018 WS/FCS Employee Appreciation Event on August 19th.
RADfest will take place at the Grey Eagle on October 13th- 14th.
The Z. Smith Reynolds Foundation announced the launch of its Inclusive Public Art initiative on August 6th.
Shift NC will present Awkward to Awesome on September 20th.
---
If you are interested in having your organization's news announced in the next News Bits, please send announcements or press releases to news@philanthropyjournal.com.