News about grants, gifts
North Carolina Community Foundation, in partnership with the North Carolina Local News Lab, awarded more than $300,000 in grants to support information and public engagement as communities recover from Hurricane Florence and prepare eastern North Carolina for a more resilient future.
To honor the first responders during Hurricane Florence, WGU North Carolina has partnered with the North Carolina Association of Fire Chiefs to establish the Eastern North Carolina First Responders Scholarship. The scholarship, valued at $2,000, will be available to an active EMT, firefighter or police officer working east of I-95.
UNC-TV Public Media North Carolina will receive a $25,000 grant from the North Carolina Community Foundation, in partnership with the North Carolina Local News Lab Fund. The grant will be used to develop a series of short-form, multiplatform videos about storm preparedness, as well as short-form field reports after storms.
Baptist Children's Homes received over $100,000 in funds raised at two events over May 8th to 11th. The Baptist State Convention of North Carolina held its fourth statewide Ride to Clyde from May 8th to 11th. The Ninevah Baptist Church's 11th annual Broyhill Home Barbecue Festival took place on May 11th. Ride to Clyde raised $80,859.88 and the Barbecue festival brought in $20,937.47.
Urban Ministries of Wake County (UMWC) received $1725.00 from the Food Lion Feeds Charitable Foundation. UMWC will use the gift to support the Client Choice Food Pantry as part of their Hunger and Nutrition Program. Specifically, it will supplement the Fight Summer Hunger Initiative.
News about people, groups
Wendy Poteat has joined Say Yes Guilford as President and CEO. Poteat most recently led The Forsyth Promise, a non-profit which works with community stakeholders to improve educational outcomes for Forsyth County students.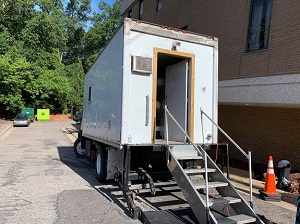 The Women's Center provided its 600th shower to homeless women since May 2018. The shower truck arrives in downtown Raleigh each Tuesday and Thursday and provides over 30 showers each visit. Women are provided with clean towels and wash cloths, hygiene items such as shampoo, conditioner and body wash, clean clothing and undergarments and a warm, private shower in privacy and dignity.
The Duke Endowment released their 2018 Annual Report, which highlights the Endowment's new strategic emphasis on early childhood.
FIESTA, the Hispanic League's annual free street festival, will take place September 14 in Winston-Salem. All funds raised from FIESTA sponsors, vendors, and donations support cultural, health, education, and college scholarship programs for the Hispanic/Latino community year-round.
Piedmont Farm Animal Refuge will host the Volunteer Appreciation Potluck & Camp Out, their volunteer appreciation event, on Saturday, August 10th in Pittsboro.
News about opportunities, initiatives
The next International House Young Professionals Board meeting will be held on Monday July 8th at 6pm. Those interested in serving on the Young Professionals Board of Directors should attend.
Duke University's Office of Durham and Community Affairs is now accepting applications for its 2019-2020 Community Care Fund grant program. The grant program supports projects that help address significant community needs. Eligibility criteria, 2019 Community Care Fund theme descriptions, and online application portal can be found here.
Marbles Kids Museum will be screening the documentary Apollo 11: First Steps Edition 3D at the Marbles IMAX in Downtown Raleigh on Saturday, July 13th.
The North Carolina Community Foundation is now accepting applications for their $500,000 grants program in eastern North Carolina from the Louise Oriole Burevitch Endowment. This program is the second annual competitive cycle from the Endowment, continuing to support nonprofit programs and general operations serving education, health and human services in 41 eastern counties. Grant awards will continue to range from $25,000 to $50,000. The cycle closes July 25th. Learn more about the program here.
The Triangle Nonprofit & Volunteer Leadership Center will host Recruiting Roundtable on Wednesday, July 17th in Morrisville. This training seminar will be offered in person and via a live webinar.
---
If you are interested in having your organization's news announced in the next News Bits, please send announcements or press releases to news@philanthropyjournal.com.