News about grants, gifts
The Alzheimer's Foundation of America awarded grant funding to the Nasher Museum of Art at Duke University on May 29th.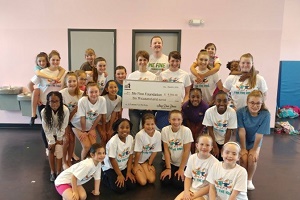 Stage Door Dance selected Me Fine Foundation as their charity of choice for their 2018 "A Concert For the Kids" showcase, and presented Me Fine with a $6,000 check.
The North Carolina Farm Bureau (NCFB) presented a check for $10,000 to leaders of the Kenan Fellows Program for Teacher Leadership May 25th.
The Chowan Community Funds Foundation announced $17,280 in local awards from its community grantmaking fund on May 31st.
The Franklin County Community Foundation announced $1,400 in local awards from its community grantmaking fund.
Susan G. Komen North Carolina has distributed $350,000 in community grants for 2018-2019.
News about people, groups
United Way of Henderson County elected a new Board Chair, as well as appointed officers for the remainder of the year on May 23rd.
Guilford Green Foundation hosted Gay & Gray Game Night on May 30th.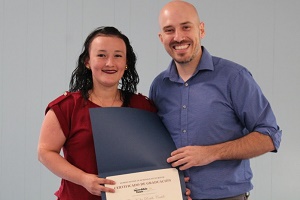 Communities in Schools of Durham recently held their Incredible Years Parent Spring Graduation for 2018.
Urban Ministries of Wake County's annual Tour D' Coop was held on June 2nd.
The NC Rural Center's Rural Day was held on May 29th at The North Carolina Museum of History.
The Leading on Opportunity Council joined Circle K Speed Street and the Charlotte Knights on May 26th to help communicate how Pre-K Paves the Way.
NC Warn's Monthly Movie Night took place on May 31st.
Triad Health Project recently launched year-round Dining for Friends.
Athenian hosted their Create and Co-lab Market Series on June 3rd.
Student Action with Farmworkers welcomed their new summer interns and fellows this week.
News about opportunities, initiatives
Triangle Emerging Arts Leaders Happy Hour will take place at CURRENT ARtspace + Studio in Chapel Hill on June 7th.
Advance Community Health is hosting Summer Fun & Fellowship every Monday-Thursday, beginning on June 18th.
Opportunities to volunteer as a host for an exchange student for the 2018-2019 school year are available through The World Heritage Student Exchange Program.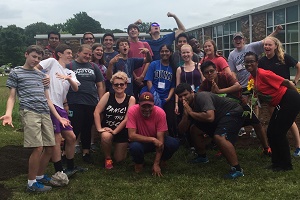 Triangle Nonprofit & Volunteer Leadership Center are offering Summer IMPACT Camp and the Institute of Civic Engagement beginning in June.
Association of Fundraising Professionals Triangle North Carolina Chapter will host Future Leaders in Philanthropy on June 7th at the Hilton Garden Inn (RTP).
The NC Tech4Good Conference will be held June 5th and 6th at The Solution Center in Durham.
BUMP: The Triangle is seeking volunteers for the 2nd Annual Black Music Month Celebration on June 10th.
Activate Good is launching Signs for Good for their summer campaign.
The Alzheimer's Association – Western Carolina Chapter is encouraging people to wear purple to raise awareness of Alzheimer's during Alzheimer's & Brain Awareness Month in June.
ESC of the Triangle is offering a Fun with Logic Models workshop on June 14th at the Frontier.
HandsOn Northwest North Carolina will host The 3 R's of Employee Management: Recruitment, Retention, and Recognition on June 5th at United Way of Davie County.
Mint Museum's "Mint to Move" will be on June 8th.
The Nonprofit Learning Lab is hosting a Online Nonprofit Conference on June 12th.
Burning Coal Theatre Company's Wait Til You See This will run from June 7th- 24th.
---
If you are interested in having your organization's news announced in the next News Bits, please send announcements or press releases to news@philanthropyjournal.com.