News about grants, gifts
National Endowment for the Arts presented an Art Works award of $60,000 to The Metropolitan Opera Guild to support opera-based teaching and learning in public elementary schools in New York City and New Jersey.
Nationwide Children's Hospital and Honda announced a $1 million gift from the automaker to establish the Honda Center for Gait Analysis and Mobility Enhancement designed to enhance pediatric mobility.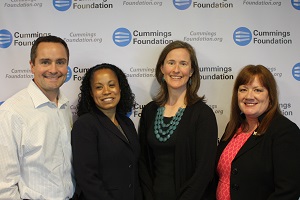 Cummings Foundation awarded $10 million to 100 Greater Boston nonprofits during its Grant Winner Celebration as part of the organization's $100k for 100 program.
Orlando City Soccer Club donated their $100,000 grant, received for being the recipient of the 2017 Stuart Scott ENSPIRE award, to Better Together Fund, Contigo Fund, and OnePulse Foundation.
Ruby's Inn raised $700,000 for the Bryce Canyon National History Association through its "Dollar Check-Off" program.
The SS United States Conservancy received a major donation of a collection of artifacts from the SS United States' captain's quarters.
Harbor Freight Tools for Schools will offer over $500,000 in prizes, to recognize great teaching in the skilled trades in U.S. public high schools.
The Boston Foundation and the Skillworks Funders Collaborative committed $10 million to strengthen workforce development programs serving a wide array of Boston-area residents.
The Pew Center for Arts & Heritage announced grant awards totaling more than $10.3 million for 12 Pew Fellowships, 39 project grants, and 2 advancement grants.
SC Johnson donated over $15 million in pest control products and financial support to help at-risk families combat mosquitoes that may carry Zika virus.
The Eisner Foundation announced that it would award $525,000 through five grants in the second quarter of 2017 to support intergenerational programs in Los Angeles.
News about people, groups
Jenny Dixon, director of The Isamu Noguchi Foundation and Garden Museum, announced her retirement from the position at the end of this year.
The Charles Bronfman Prize announced David Lubell as its 2017 recipient for his work creating welcoming communities for immigrants and refugees.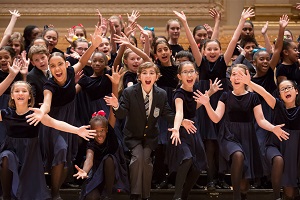 Young People's Chorus of New York City held their spring concert on June 17th.
The Tenement Museum announced named Kevin Jennings president of the cultural and education institution.
The St. Baldrick's Foundation endorsed the Psychosocial Standards of Care for Children with Cancer and their families to be published in a dedicated supplement of Pediatric Blood and Cancer.
MutualArt announced it will be teaming up with Art for Amnesty to support the efforts of Amnesty International.
Lincoln Center for the Performing Arts, in partnership with The Rockefeller Foundation, announced the inaugural recipients of the Lincoln Center Cultural Innovation Fund on June 15th.
The Center for Reproductive Rights announced five new members of the organization's Board of Directors.
Third Sector New England, based in Boston, announced that it is changing its name to TSNE MissionWorks as of June 22nd.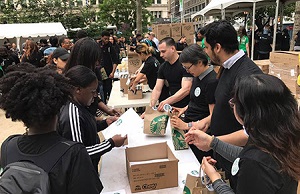 City Harvest joined Feeding America to launch Starbucks' FoodShare program in New York City, collecting unsold food from 45 Starbucks locations. To kick off the partnership, 100 Starbucks employees assembled 5,000 kids' snack packs in Madison Square Park that were distributed to soup kitchens and food pantries across the city.
The Ford Foundation announced the appointment of Ai-jen Poo to serve as a member of its Board of Trustees.
ArcheDream for Humankind's Variety Show took place June 16th-18th featuring a unique combination of past creations and new, original material.
Virginia Arts Festival and Bruce Hornsby presented the 2017 Funhouse Fest at the Art Museums of Colonial Williamsburg June 23rd-25th.
JPMorgan Chase and the Financial Solutions Lab at the Center for Financial Services Innovation announced the winners of the $3 million Fintech Competition to improve financial health of overlooked populations in America on June 15th.
The Chester County Fund for Women and Girls welcomed Cynthia Jaros and Maeve Kelly to their staff as Development Director and Communications and Program Associate.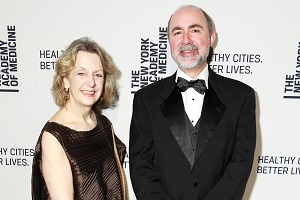 The New York Academy of Medicine recently hosted its annual Gala honoring three visionary leaders in urban health: Dr. Richard N. Merkin of Heritage Provider Network, Dr. Julie Gerberding of Merck & Co., Inc. and Merck for Mothers, and Academy President Jo Ivey Boufford.
The Fund for Academic Renewal created five Special Purpose Funds, designed specifically to help individual donors pool their resources with those of others who want to support liberal arts and sciences programs.
The Board of Trustees of the Smithsonian's Archives of American Art announced that it has elected Amy Bermingham, Gilberto Cárdenas, George Merck, and Richard J. Miller as new members.
Grown Women Dance Collective presented the 8th annual Fallen Heroes, Rising Stars celebration on June 24th and 25th.
United HomeCare was celebrated by Miami Today with a Bronze Medal for 43 years of service to the elderly and 37 years as Lead Agency for the Alliance for Aging, Community Care for the Elderly Program.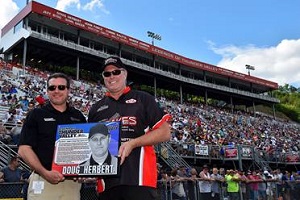 Doug Herbert was inducted as a "Legend of Thunder Valley" at the NHRA Thunder Valley Nationals in Bristol, Tennessee.
Medical Teams International is partnering with the International Blue Crescent Relief and Development Foundation to help alleviate the suffering of families caught in the crossfire of the war in Syria.
ChicagoMade Music Collective: Leveraging the Local to go Global took place on June 23rd at Captain's Hard Time Dining, as an opportunity for local music industry professionals and working musicians to network with one another.
Social Finance announced the launch of the Massachusetts Pathways to Economic Advancement Pay for Success Project. The project will support 2,000 immigrants and refugees in Greater Boston to make successful transitions to employment, higher wage jobs, and higher education.
News about opportunities, initiatives
The Fund for Peace launched 'The Bottom 100' to mark World Refugee Day. In contrast to the many global 'Rich Lists' that are published each year, The Bottom 100 reveals the personal stories of one hundred of the world's poorest individuals across the globe who are struggling to get by.
artEquity announced that the 3rd annual national facilitator training program will take place in Los Angeles on September 7th-10th and October 19th-22nd.
ATX Pinery invites everyone to grab apparel to wear from the charity-driven pineapple clothing brand on International Pineapple Day on June 27th.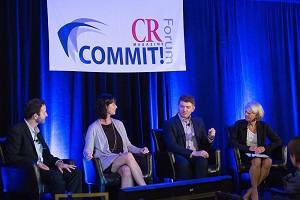 CR Magazine's 2017 COMMIT!Forum will be October 11th-12th at the MGM National Harbor. Registration is now open for those interested in attending.
The North Carolina and South Carolina Planned Giving Councils announced their annual Carolinas Planned Giving Conference for September 12th-13th at the Kanuga Inn and Conference Center.
LENDonate has launched a hybrid, online lending platform for 501(c)(3) nonprofits. The platform lets nonprofits source loans and donations simultaneously by uniting nonprofits with lenders, including financial institutions, philanthropic organizations, and accredited investors for quick funding of high-quality, low cost loans.
Registration for The Social Media Strategies Summit, New York is now open. Individuals and organizations are invited to hear new and relevant topics around the social media industry.
Classes begin this week and run through August for the free GSK Science in the Summer STEM enrichment program at various locations.
Urban Institute hosts Making Sense of New Evidence on Private School Vouchers on June 26th at the Institute.
Help for Children will present the 10th annual New York Golf Day on July 7th at the Fairview Country Club.
---
If you are interested in having your organization's news announced in the next News Bits, please send announcements or press releases to news@philanthropyjournal.com.