News about grants, gifts
Siemens Canada donated 150 laptops for distribution to five Canadian schools, as well as 150 laptops to educational initiatives in Costa Rica and Nicaragua to help students in developing nations gain greater access to technology.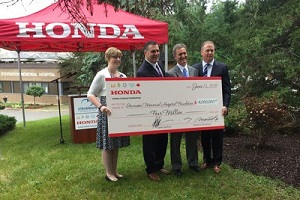 The Honda Canada Foundation announced a $4 million charitable donation to the Stevenson Memorial Hospital Foundation.
The International Finance Corporation announced a $50 million investment in BRAC Bank to catalyze a new program, Banking on Women.
EUROMOVERS raised €2,250 for FreshStart through a lottery which delegates competed in to win a range of prizes.
News about people, groups
The Giving Pledge added 14 new individuals and couples to its growing list of signatories: Leonard H. Ainsworth, Australia; Mohammed Dewji, Tanzania; Dagmar Dolby, United States; DONG Fangjun, People's Republic of China; Anne Grete Eidsvig and Kjell Inge Røkke, Norway; Sir Stelios Haji-Ioannou, Monaco, Cyprus; Nick and Leslie Hanauer, United States; Iza and Samo Login, Slovenia; Dean and Marianne Metropoulos, United States; Terry and Susan Ragon, United States; Nat Simons and Laura Baxter-Simons,United States; Robert Frederick Smith, United States; Harry H. Stine, United States; and YOU Zhonghui, People's Republic of China.
In honor of Canada's 150th birthday, Glad partnered with Canadian city clean programs to create a unified cleanup under the #CleanCanadaTogether banner.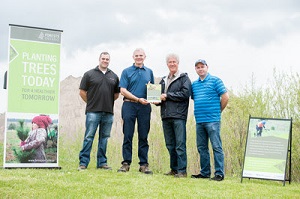 Canada Building Materials partnered with Forests Ontario to convert 25 acres of the Sunderland Sand & Gravel Pit into productive forest by planting 20,000 trees on the property.
Emmaus Bristol launched their new shop, Emmaus Vintage which houses classic and refurbished furniture.
Wave announced a US$24 million strategic financing, with participation from leading financial services companies including National Australia Bank, Royal Bank of Canada, Portag3, and Exhibition Capital.
The Metro Toronto Convention Centre was honored with the 2017 Outstanding Building of the Year Award and the Certificate of Building Excellence in the public assembly category by the Building Owner's and Management Association of Toronto.
GeneNews Limited announced a warrant exercise incentive program designed to encourage the early exercise of its 12,466,238 outstanding and unlisted warrants.
DKT International entered the Kenyan reproductive health market, launching high quality, affordable and effective contraceptives.
Symbility Solutions Inc. made the list of Canada's top technology companies in the 2017 Edition of the Branham300.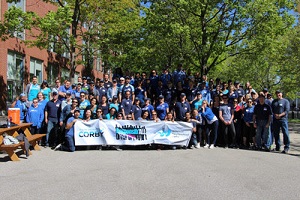 Employees of Corby Spirit and Wine spent the day volunteering within their own communities across Canada in a collective effort to give back to the neighbourhoods where they live and work on June 1st.
Toronto's Autism Speaks Canada Walk took place at Nathan Phillips Square on June 4th.
Graduate Women International welcomed Bharati Thakore and Bina Thadani from the Indian Federation of University Women Associations, Mumbai to the GWI headquarters in Geneva, Switzerland in late May.
The Presidency of the Republic of Benin and the conservation NGO African Parks announced the signing of a 10-year renewable partnership to revitalise, rehabilitate, and develop Pendjari National Park.
News about opportunities, initiatives
Donations are being accepted as part of Akshaya Patra's Back to School Initiative to send kids who are willing to learn, but do not have the resources back to school.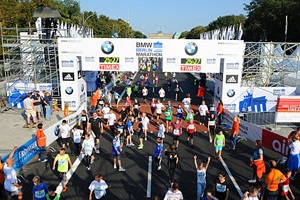 Registration and bookings are now available for Sports Tours International's Berlin Marathon set for September 24th.
African Wildlife Foundation is encouraging individuals to take part in their Wildlife Hero Quiz to find out what it takes to be a true wildlife hero and how individuals can help protect Africa's precious species.
Tijuallywood Productions will present Border Angels Binational Concert on July 29th.
Corporate Knights is accepting nominations for its third annual Top 30 Under 30 Sustainability Leaders list until July 7th.
INEPAS is inviting individuals who want to enhance their learning while experiencing life in Guatemala to apply for their Language Immersion Program, Service Learning Program, and Voluntary Internships.
---
If you are interested in having your organization's news announced in the next News Bits, please send announcements or press releases to news@philanthropyjournal.com.