News about grants, gifts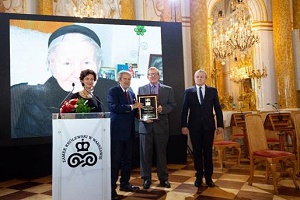 Tad Taube and Polish Culture Minister Piotr Tadeusz Gliński gifted the 2018 Irena Sendler Memorial Award to Norman Conard on June 11th.
The JAAM Foundation raised their matching amount gift for Australian Wildlife Conservancy's Feral Cat Matching Challenge from $1 million to $1.5 million.
AID:Tech announced simultaneous investments from Enterprise Ireland, and SGInnovate, at MoneyConf, Dublin, Ireland.
News about people, groups
rhubarb partnered with award-winning chef and author Dan Doherty on May 29th for the hospitality group's first international restaurant opening at Hudson Yards.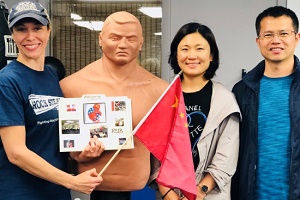 Rock Steady Boxing opened their first affiliate in China this month: Rock Steady Boxing Beijing.
Capital One Canada hosted its first-ever Capital One Digital For Good Summit in Toronto on June 18th. The Summit brought together more than 150 of the country's foremost charity leaders and digital experts to understand the tools available to help advance their digital journeys.
On May 31st, Charlize Theron accepted the Swarovski Crystal of Hope Award on behalf of the Charlize Theron Africa Outreach Project in Vienna during the 25th Anniversary of Life Ball celebrations.
The 38th Centralized kitchen was launched by The Akshaya Patra Foundation at Jhalawar, Rajasthan back in May.
Päivi Myllärinen received an innovation award for women from the Finnish Parliament on June 4th.
The partnership between Sun24 and the Catholic Church won the Energy Globe National Award on June 5th for their unique model to distribute solar lights to families without electricity in the most remote areas in Uganda.
Scientology Volunteer Ministers are providing physical and spiritual help to those displaced by last week's eruptions of the Fuego volcano in Guatemala.
Trevor Phillips was named the new chair of the Index on Censorship board this past week.
News about opportunities, initiatives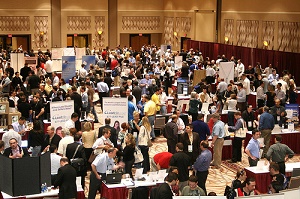 The European Summit Meet Market will be held on September 14th.
Act4Accountability and the Mastercard Foundation announced the Diaspora Initiative to Support Youth Training Organizations in Nigeria and Uganda.
Magnuson Hotels will attend the Eye for Travel Europe in London on June 4th-6th.
EBSOMED's Kick-off Meeting will be June 28th at The Laico-Hotel Tunis.
American Academy of Rome's Designing Water will occur October 17th-18th at Longwood Gardens.
ICTJ's Role of Transitional Justice course will take place October 1st-5th in Barcelona.
Paxful announced new developments in its #BuiltwithBitcoin charitable initiative on June 12th.
---
If you are interested in having your organization's news announced in the next News Bits, please send announcements or press releases to news@philanthropyjournal.com.