News about grants, gifts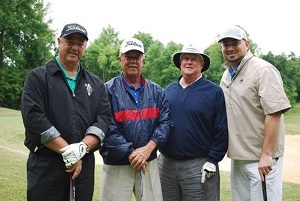 CoreNet Global Carolinas raised $4,320 at its Annual Golf and Tennis Tournament for the CoreNet Carolinas Scholarship at UNC Charlotte Childress Klein Center for Real Estate.
Golden LEAF Foundation awarded 40 grants totaling more than $22.6 million to support economic development, agriculture, education, workforce development, infrastructure, and health care infrastructure needs in rural, tobacco-dependent or economically distressed areas across North Carolina.
The Board of Directors of United Way of Henderson County approved a total community investment of $1.36 million for 2016/17 fiscal year. The investment includes grants to 39 Henderson County health and human service programs at 23 agencies working to improve education, income, and health throughout the community.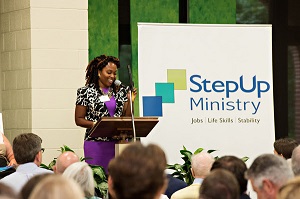 In 2015, Publix Super Markets Charities donated $4 million to more than 80 Habitat for Humanity affiliates across the Southeast.
StepUp Ministry raised over $160,000, including a bonus gift from an anonymous donor, at their annual Impact Luncheon on June 6th.
News about people, groups
The Z. Smith Reynolds Foundation announced the participants of its 2016 Non-Profit Internship Program & 2016 Sabbatical Award Recipients. The Non-Profit Internship Program awards twenty-plus students paid summer internships and matches them with organizations the Foundation has funded across the state. The Sabbatical program provides veteran nonprofit leaders with an extended break from work that allows time to focus on their personal needs, growth and self-revitalization.
The Lupus Foundation of America, North Carolina Chapter appointed Kelly Carraway to its board of directors. Carraway is a real estate broker at Century 21 Triangle Group and is active in her community as a volunteer and as a member of various Chambers of Commerce, the National Association of REALTORS and Raleigh Regional Association of REALTORS.
Housing for New Hope named Olive Joyner as their new Executive Director. Joyner has served as interim director since March.
The Susan G. Komen Triangle 20th Anniversary Race for the Cure was held on June 11th. WRAL released a video titled "Why I Volunteer" in advance of the event.
Marble Kids Museum opened Stepnotes, a colorful interactive staircase piano, on June 9th with funding from MetLife Foundation.
President of The Duke Endowment, Gene Cochrane, received the Order of the Long Leaf Pine, an award presented to citizens for exemplary service to the State of North Carolina. Cochrane is retiring July 1st and has served as president since 2005.
Ply Gem kicked off Habitat for Humanity's national Home Builders Blitz week with a wall-raising ceremony in Wake County. The sponsorship is part of the Home for Good project – a multi-year initiative that includes the donation of more than $1 million of performance siding and windows and funds for Habitat for Humanity to use to help families build homes.
Food Bank of Central & Eastern North Carolina hosted the inaugural Chef's Feast "Summertime Memories." The event raised funds to provide meals for the nearly 300,000 children who lose access to school meals when cafeterias close for the summer.
The Mint Museum held its first Young Affiliates of the Mint art show, entitled 80 x 80, consisting of 80 works of art in honor of The Mint Museum's upcoming 80th anniversary.
ENC Stop Human Trafficking Now held a volunteer training on June 7th. Attendees learned how to define human trafficking, how to recognize signs of trafficking, why trafficking happens in North Carolina, and more.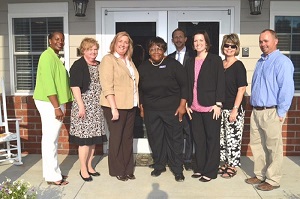 SECU Harbor House opened its doors to the Johnston County community with a dedication ceremony on Tuesday, June 7th. Representatives from SECU Foundation, State Employees' Credit Union (SECU) and Harbor House joined state and local leaders for the Ribbon Cutting.
Stop Hunger Now promoted Edna Ogwangi to Chief Impact Officer. Ogwangi joined the global nonprofit in 2015 as Director of Aid Distribution, Monitoring and Evaluation, and was promoted to this newly created position in April 2016.
On May 19th, Student Action with Farmworkers, along with members of the Adelante Education Coalition, facilitated the 4th annual Undocugraduation where 70 participants came to the NC General Assembly to show their support for tuition equality for all NC students.

News about opportunities, initiatives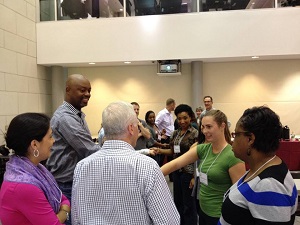 Leadership Triangle has opened early bird submissions until July 8th for their 2016 Transforming Leaders Program, a leadership development program that is designed to meet the individualized developmental goals of each participant.
Registration is now open for the NC Center for Nonprofit's 2016 statewide conference Nonprofits at a Crossroads, which will take place September 21-23 in Research Triangle Park.
Turchin Center for the Visual Arts is opening "Color Me This" and "A Sense of Place" exhibitions of contemporary art jewelry, both guest-curated by Eliana Arenas, on July 1st.
Levine Cancer Institute has opened up volunteer registration for the 15th Annual 24 Hours of Booty. This year's charity cycling event is scheduled for 7 PM Friday, July 29th to 7 PM Saturday, July 30th when 1,200 participants will be riding and raising funds to help fight cancer.
Association of Fundraising Professionals NC Triad Chapter opened nominations for the National Philanthropy Day awards. Nominations close July 31st and this year's National Philanthropy Day Awards ceremony will take place on November 21st.
Association of Fundraising Professionals 2016 NC Philanthropy Conference has opened Early Bird Registration. The conference will be held August 18 in Charlotte.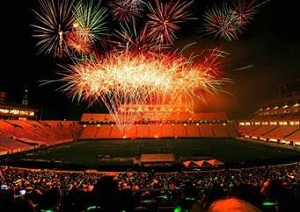 The Town of Chapel Hill will host a fireworks presentations at Kenan Stadium this July 4th. Gates open at 7PM with the Soul Psychedelique Orchestra, face painting stations, inflatable sports challenges, carnival games, and a Watermelon Eating Contest hosted by DSI Comedy.
North Carolina Legislative Black Caucus Foundation, Inc. will host its 2016 Education Scholarship Event on June 17th to raise funds for scholarships for students attending the Historically Black Colleges and Universities in North Carolina.
Guiding Lights Caregiver Support Center opened registration for the Triangle Caregivers Conference to be held June 21st and June 28th.
The Green Chair Project will host its "Summer Porch Sale" Thursday, June 16th through Saturday, June 18th at the organization's headquarters in Raleigh.
On June 17th, the N.C. Museum of History will present a free screening of "America's First Forest: Carl Schenck and the Asheville Experiment," an in-depth documentary film about forester and educator Carl Schenck.
The Association of Fundraising Professionals NC Triangle Chapter will host "Building a Successful Giving Day Challenge" on June 16th with speaker Erin Cleghorn, Director of The Meredith Fund at Meredith College.
ArtsGreensboro will hold their Annual Meeting on June 15th at the Revolution Mill where attendees will hear updates on the Greensboro arts community, an announcement of the Guilford County Arts Education Teacher of the Year, a presentation of the Betty Cone Medal of Arts to the family of Broach Theatre Company Co-Founder Stephen Gee, and meet the other 2016 ArtsGreensboro Award Recipients: Betty Cone, who received the O. Henry Award, and The View on Elm, who received the Art-in-Business Award.
---
If you are interested in having your organization's news announced in the next News Bits, please send announcements or press releases to news@philanthropyjournal.com.