News about grants, gifts
University of Haifa received a $10 million donation from American philanthropist, Lorry I. Lokey.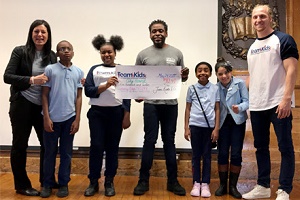 Fifth graders at PS149 in Brooklyn organized a charity carnival and raised nearly a thousand dollars for City Harvest.
New York Life and the Alliance for Strong Families and Communities announced the launch of a new grant program to support children, adults, families, and communities experiencing trauma resulting from natural disaster or community-wide tragedy on June 4th.
Habitat for Humanity of Collin County received a grant award of $877,521 from McKinney Community Development Services on June 4th.
The Vodafone Americas Foundation announced the winners of its 10th annual Wireless Innovation Project at the Social Innovation Summit 2018 in San Francisco and awarded $600,000 in grants to the winners: Point-of-care platform SMART, cerVIA, and ENVision Mobile.
The Smithsonian's Archives of American Art announced on June 6th that it is the beneficiary of a major promised gift from the Roy Lichtenstein Foundation.
Gifts totaling $2 million from Indiana University (IU) alumni Jeff and Marcia Fettig and the Whirlpool Foundation will support IU Kelley School of Business.
News about people, groups
The Berggruen Institute announced Elif Shafak and David Chalmers as the newest jurors on the official selection committee for the Berggruen Prize for Philosophy and Culture on May 31st.
The Boston Foundation hosted the Boston release of BoardSource's national Leading With Intent report, on June 5th at the Edgerley Center for Civic Leadership.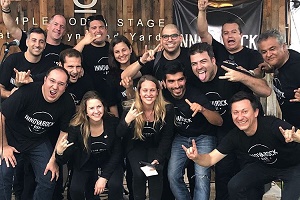 CIC Miami held the first #InnovarockNight in Miami at the Wynwood Yard last week.
The Young People's Chorus of New York City's Spring Celebration was held on June 2nd at The Cathedral of St. John the Divine.
The de Beaumont Foundation named Brian C. Castrucci Chief Executive Officer on June 4th.
The National Black MBA Association presented Crisis Management Demystified on June 9th at the University of San Francisco.
Subaru of Pembroke Pines hosted their 3rd Annual Subaru of Pembroke Pines Dog Appreciation Pawty in support of Pooches In Pines.
Alka Nischal was named to the Board of Trustees of Helen Keller Services on June 5th.
The Academy Museum of Motion Pictures announced Brendan Connell, Jr. as its new Chief Operating Officer on June 4th.
Truth Initiative was named the inaugural winner of the Clarence B. Jones Impact Award.
Optima Partners announced Alan K. Halfenger as a Partner at the firm on June 5th.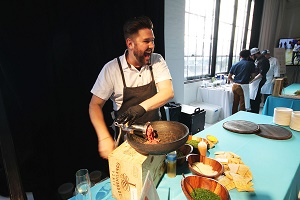 CYCLE Kids held their Annual Spring Classic in New York and raised over $190,000.
Community Food Funders presented the second annual Community Food Funders Champions Award to East New York Farms on June 7th.
Union Bank announced that Elizabeth Van Benschoten joined its Real Estate Industries group as Managing Director and Market Manager for Community Development Finance in Northern California on June 5th.
Help For Children announced the launch of PE|VC Cares San Francisco on June 5th.
Bridgestone Retail Operations launched its annual Driving Great Futures campaign on June 4th to support its four-year partnership with Boys & Girls Clubs of America.
The Shepherd Higher Education Consortium on Poverty announced Sam Kille as its first-ever communications director on June 6th.
Valley Innovators announced the launch of its entrepreneurial program and annual pitch contest on June 6th.
Good Grief's 5K Run and Walk for Hope raised over $130,000.
PJ Library was named one of North America's top 50 innovative Jewish organizations in the 13th annual Slingshot Guide.
The Audre Lorde Project marched at the Brooklyn Pride Twilight March on June 9th.
Michelson Found Animals Foundation raised $1,367,537 million in the fifth annual Saving Pets Challenge.
News about opportunities, initiatives
The Yerba Buena Gardens Festival is taking place all month long in San Francisco.
Aroha Philanthropies invites museums across the United States to submit proposals to participate in its Seeding Vitality Arts in Museums initiative.
The National Academies of Sciences Engineering Medicine will host Sexual Harassment of Women: Climate, Culture, and Consequences in Academic Sciences, Engineering, and Medicine on June 12th in Washington, D.C.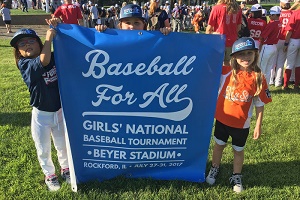 Baseball For All's 2018 Nationals are August 2nd-5th in Rockford, Illinois.
NYU School of Professional Studies George H. Heyman, Jr. Program for Philanthropy and Fundraising is hosting fundraising and career advancement courses throughout the summer.
Alliance for Justice's Justice First! Luncheon will be on June 18th at the Hyatt Regency on Capitol Hill.
Beloved Festival will take place August 10th-13th.
The 2018 Pencil Gala will be held on October 16th at Gotham Hall in New York.
The San Francisco African American Chamber of Commerce will host Juneteenth 2018 at The San Francisco Marriott Marquis on June 22nd.
Green Card Association's 77th Annual Convention: Opportunity Rocks will be held September 26th- 29th.
StoryCenter's Digital Storytelling Workshops will be held in July in Denver and Berkeley.
The annual Hogs for Dogs, benefiting the Dogs by Debin Dog Adoption Center, will be held this year on June 16th.
The League of American Orchestras' Essentials of Orchestra Management program will take place in Los Angeles on July 16th-26th.
Parkland's Camp CHAMPS began this week and will proceed throughout the summer.
The Rafa Learning Community will host The Changing Roles of Today's CIO Seminar on June 12th in Washington, D.C.
---
If you are interested in having your organization's news announced in the next News Bits, please send announcements or press releases to news@philanthropyjournal.com.