News about grants, gifts
Alumnus Jerry Murdock and his wife, Joan, of Fountain Inn, South Carolina, have committed $1,250,000 to High Point University for the Jerry W. and Joan S. Murdock Endowed Scholarship, which will support students who have financial need.
Chiesi returns to the plate as the 2019 presenting sponsor of strikeouts by the Durham Bulls. For every strikeout a Bulls pitcher collects during the 2019 season, Chiesi will donate to three area charities – Me Fine Foundation, Inter-Faith Food Shuttle and Children's Flight of Hope. Each Triangle-based nonprofit will be featured for 23 consecutive games. In 2018, the partnership culminated in a $15,000 donation to the three nonprofits.
Winston-Salem State University and Johnson C. Smith University will each receive a $100,000 American Heart Association (AHA) grant as part of the AHA's first-ever EmPOWERED to Serve Urban Health Accelerator – HBCU Healthy Community Challenge Showcase.
Don't Waste Durham reached their $20,000 fundraising goal in just six days, 8 days ahead of their target date.
News about people, groups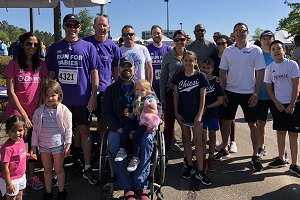 Chiesi served as the signature sponsor of the 2019 Triangle March for Babies Walk & 5K Run, which took place Saturday, April 27 in Morrisville.
Forsyth Futures named Adam Hill as the organization's new Executive Director, effective May 1. As Forsyth Futures' Director of Data Strategy and Impact since 2013, Adam has a strong understanding of our community and a depth of context that will prove invaluable in identifying opportunities and understanding challenges.
The Center for Craft awarded $150,000 in Windgate Fellowships to ten graduating college seniors with exemplary skill in craft. Each awardee will receive $15,000 — one of the largest awards offered nationally to art students.
North Carolina Poet Laureate Jaki Shelton Green was named an Academy of American Poets Laureate Fellow by the Academy of American Poets.
Triad Pride Performing Arts commemorated the 50th anniversary of the Stonewall Uprising in NYC and the 20th anniversary of the founding of Triad Pride Men's Chorus at their 20th Anniversary Concert on Saturday, May 4th in Greensboro.
MeckEd, along with Charlotte Mecklenburg Schools principals, business and district leaders, and community members honored 20 teachers at the 2019 MeckEd Teachers of Excellence Awards & Dinner on May 3rd at the Hilton Charlotte City Center.
NC Child released the 2019 County Data Cards, which explore fifteen key indicators in every NC county, including educational outcomes, and child abuse & neglect.
Asheville Area Habitat for Humanity will open a second Habitat ReStore in Weaverville in late summer 2019. The ReStore will lease the space currently occupied by ACE Hardware who is moving across the street.
News about opportunities, initiatives
Duke University's Social Science Research Institute is hosting Assessing Impact & Improving Efficacy: Evaluation 101, a free community workshop on evaluation, on June 20th in Durham. This event is free and open to non-profit, community-based, and public-sector programs/organizations. Registration is required.
Apparo will host See You in the Cloud, the latest in their Nonprofit Bytes+Insights forum series, on May 17th in Charlotte. Panelists will lead the discussion on how cloud computing saves organizations time and money.
Applications are now being accepted for Burning Coal Theatre Company's Summer Theatre Conservatory programs for students in grades 6-8 and high school students.
The LGBTQ Center of Durham's Host Home Program will present their 1st Annual Home Host Symposium on Friday, June 7th at the UNC School of Social Work.
WakeEd Partnership's STEMposium will take place Tuesday, May 7 at the PNC Arena Club East in Raleigh. The event highlights the impact of business partnerships with Wake County Public Schools.
Easterseals UCP North Carolina & Virginia will host the 2019 Walk With Me on June 1 at the North Carolina Museum of Art in Raleigh.
The 34th annual North Carolina Watermelon Festival will take place July 31st through August 3rd in Historic Murfreesboro. This year's theme is "Honoring Those Who Served."
The V Foundation for Cancer Research has launched a new campaign in support of the Tyler Trent Fund at the V Foundation. Cannonball Kids' cancer Foundation will match every contribution up to $100,000 towards the Fund. The campaign, #MatchforTyler, will run through May 10, with donation totals announced that evening during the 14th Annual Dick Vitale Gala.
Transitions GuidingLights will host a Pig Pickin' bbq fundraiser on Thursday, May 16 from 11am-1pm at Waltonwood Lake Boone in Raleigh.
The Barnabas Network will host Chair Affair 2019 on Thursday, May 9th at The Colonnade at Revolution Mill in Greensboro. Proceeds from Chair Affair help underwrite efforts to provide free basic home furnishings to families in need.
SHIFT NC's 2019 Conference on Adolescent Sexual Health takes place May 15th-17th in Greensboro. This year's theme is Diving Below the Surface: Exploring the Depths of Adolescent Sexual Health. The registration deadline is Wednesday, May 8th.
Registration is now open for the Caregivers Summit conferences. The conferences will take place in June, August, September and October.
---
If you are interested in having your organization's news announced in the next News Bits, please send announcements or press releases to news@philanthropyjournal.com.