News about grants, gifts
BMO Financial Group, CIBC, Royal Bank of Canada, Scotiabank and TD Bank Group donated $500,000 to the Canadian Red Cross to support the flooding in Québec, Ontario, BC and New Brunswick.
The 12th annual Scotiabank Pro-Am Hockey Tournament for Alzheimer's raised over $1.5 million for Baycrest Health Sciences this year.
The Air Canada Foundation board approved a $50,000 donation to the Canadian Red Cross in support of relief efforts for those directly impacted by the unprecedented floods of 2017: $25,000 earmarked for the Spring Flood Quebec Appeal and an additional $ 25,000 for the General Spring Flood Appeal.
News about people, groups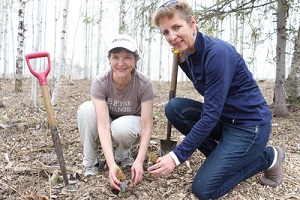 More than 300 volunteers and representatives from CAA North & East joined Forests Ontario for a community tree plant at Kivi Park in Sudbury on May 13th.
Governor Generals of Canada welcomed distinguished guests to the official opening of the Centre's new permanent headquarters in Ottawa on May 16th.
The International Federation of Musicians awarded the newly created FIM Airline of Choice award to Air Canada.
DuPont leaders joined together with public sector, private sector, and government leaders to officially open the Africa Regional Technology Center in Delmas, South Africa on May 23rd.
African Parks, in partnership with the Endangered Wildlife Trust and Malawi's Department of National Parks and Wildlife, successfully relocated four cheetahs to Liwonde National Park on May 17th. Cheetahs have been extinct in Malawi for 20 years.
African Parks successfully translocated eighteen Eastern black rhinoceroses to Rwanda over the first week in May, ten years after the last individual was documented in the country.
Australian Wildlife Conservancy field ecologists have successfully translocated 19 Red-tailed Phascogales to the massive feral cat-free area at Mt Gibson Wildlife Sanctuary.
The International Maritime Rescue Federation, the international charity focused on preventing loss of life in the world's waters, named Theresa Crossley their new Chief Executive.
News about opportunities, initiatives
The John D. Gerhart Center will host its Sixth Annual Conference on Philanthropy and Civic Engagement, 'Exploring the Paths to SDGs', at The American University in Cairo on October 18th-19th, 2017.
Projects Abroad volunteers traveling to Morocco and Senegal during the month of Ramadan have the unique opportunity to broaden their cultural horizons at these two Projects Abroad destinations.
Forests Ontario is joining forces with Canada Building Materials to convert almost 25 acres of the restored Sunderland Sand & Gravel Pit into healthy and productive native forest. The first phase of the project will include the planting of 20,000 trees.
Employees from RSA Canada will take part in Habitat for Humanity Canada's biggest build project ever – to build 150 homes in celebration of Canada's 150th anniversary of Confederation. The project, Habitat for Humanity's 34th Jimmy & Rosalynn Carter Work Project, will be taking place in every province and territory across Canada.
---
If you are interested in having your organization's news announced in the next News Bits, please send announcements or press releases to news@philanthropyjournal.com.