News about grants, gifts
Trustees of The Duke Endowment in Charlotte approved $18.2 million in 35 new grants to organizations in North Carolina and South Carolina.
Kenan Fellows Program for Teacher Leadership are partnering with IBM to sponsor two Wake County Public School System educators as 2017–18 Kenan Fellows.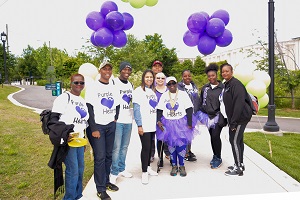 The 16th Annual Walk To End Lupus Now: Charlotte raised more than $121,000 to support lupus programs and services provided by the Lupus Foundation of America, North Carolina Chapter.
On Thursday May 11th in Durham, eight women were released after members and supporters of Southerners on New Ground raised money to bail them out of jail, where they were waiting until their trial.
The Golden LEAF Board of Directors awarded over $30.8 million in grants since January 1st. The bulk of the grant awards assisted North Carolinians recovering from Hurricane Matthew and other disasters and through the Foundation's Community-Based Grantsmaking Initiative.
The Biogen Foundation granted more than $125,000 to support science education programs and projects in schools across North Carolina. The Foundation's "Ignite the Power of STEM" program awarded 39 grants to teachers' and schools' STEM education programs that serve K-12 students across North Carolina.
News about people, groups
Transplanting Traditions Community Farm hosted their Spring public tour and community workday on May 20th. Attendees learned more about the farm and helped complete major farm projects alongside community members and farmers.
The Association of Fundraising Professionals North Carolina Triad Chapter will host its monthly meeting on May 30th at the Paul J. Ciener Botanical Garden in Kernersville, NC. The meeting will focus on identifying problem areas in the estate planning and administration context by reviewing illustrations of problems and pitfalls in celebrity plans.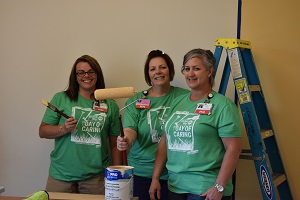 On Friday, May 12th and Saturday, May 13th more than 200 community volunteers came together to work on 40 service projects at 28 Henderson County nonprofit agencies as part of United Way of Henderson County's annual Days of Caring. Projects included prepping materials for exhibits at Hands On!, outside cleanup at Only Hope WNC, painting at the Safelight Resale Store, landscaping at Pisgah Legal Services, gardening at the Veterans Healing Farm, picking up food from mailboxes for the stamp Out Hunger Food Drive, and many more.
The National Association of Letter Carriers hosted their 25th Letter Carrier's #StampOutHunger Food Drive on May 13th.
The City of Raleigh is turning the GoRaleigh R-LINE into the ART-LINE to celebrate the ten-year anniversary of the Art-On-The-Move public art project. From 12pm-4pm on Saturday May 20th the bus will become a moving stage featuring performances by actors, comedians, poets, and musicians. Guests are invited to hop on or off the ART-LINE at any of the stops. The R-LINE is always free!
NC Warn is looking for supporters to endorse their Emergency Methane Action Resolution. Dogwood Alliance just became the 22nd group to sign the resolution.
The North Carolina Center for Nonprofits announced the appointment of Jeanne Tedrow as its new President & CEO.
Say Yes Guilford invited Guilford County's faith and religious leaders to breakfast on May 18th to explore ways to work together to better inform and educate their respective community about important topics like K-12 support for students and families, scholarship opportunities, and ways to work together to enhance college access and post-high school readiness for the children of Guilford County Schools.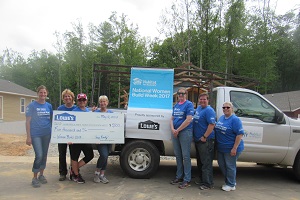 Local Women Build volunteers and Lowe's Heroes employees were among more than 20 volunteers who joined Asheville Area Habitat for Humanity to help build affordable housing in Asheville as part of National Women Build Week on May 12th.
The North Carolina Governor's School Foundation launched a campaign to Save Governor's School. The campaign's goal is to protect the nation's oldest statewide summer residential program for academically gifted high school students by activating and informing Governor's School's passionate network of alumni, parents, educators, and supporters, and empowering them to share their Governor's School experiences with the North Carolina General Assembly.
On Earth Day, April 22nd, the George and Julia Brumley Family Nature Preserve opened to the public. The Preserve had over 1,300 people attend. The overwhelmingly positive feedback from the community has been invigorating to the staff who are looking forward to new conservation projects in the future and are anticipating the opening of Walnut Hill Nature Preserve.
News about opportunities, initiatives
The Duke ARAC program announced the recruitment of a NC Campus Compact AmeriCorps VISTA member for the program year running July 17, 2017- July 20, 2018. The VISTA member will develop curriculum, program evaluation, volunteer trainings, and resources to insure the efficacy and sustainability of our afterschool programs. Durham residents with a passion for supporting diverse children and families and native Spanish speakers are strongly encouraged to apply.

Activate Good is seeking volunteers to be in a special music video PSA on June 3rd, that is being put together to promote volunteerism in the community.
The state museums of history, art and natural sciences invites all Raleigh first responders and their families to attend complimentary featured events and exhibitions on upcoming evenings and weekends this spring. The N.C. Department of Natural and Cultural Resources, which includes all three museums, was inspired to extend the invitations as a thank you to first responders following the recent devastating fire at The Metropolitan building in downtown Raleigh.
Tickets are on sale now for the 2017 Chair Affair auction set for Thursday, June 1st from 6-9pm. This biennial event is a fundraiser to support The Barnabas Network and will be held at the new Tracks Bazaar venue. The party will feature food, drinks, live music, and a silent auction.
Communities in Schools of Wake County is currently seeking sponsors to support a student to attend SMART Summer Camp.
Love Is Bald will present the 3rd annual Susan S. Allen Memorial Golf Tournament on June 10. Proceeds benefit Me Fine Foundation.
---
If you are interested in having your organization's news announced in the next News Bits, please send announcements or press releases to news@philanthropyjournal.com.