News about grants, gifts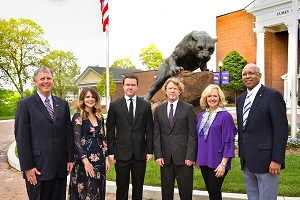 Local business owners and High Point University (HPU) alumni David and Amy Smith are investing $600,000 into HPU's continuous growth. Inside the Nido and Mariana Qubein Arena, Conference Center and Hotel, the David and Amy Smith Panther Club Suite will be named in honor of the family's success in business and their commitment to HPU.
Duke University will expand on its commitment to a strong humanities curriculum and forge new collaborations beyond campus with a $3 million grant from The Andrew W. Mellon Foundation. The funding will establish Humanities Unbounded, an initiative that will focus on developing new collaborative curricula models, deepening Duke's relationships with liberal arts colleges and historically black colleges and universities and piloting a new teaching partnership with Durham Technical Community College.
With nearly 400 community and business leaders, the American Heart Association's Winston-Salem Heart Ball which took place on Friday, April 20, raised over $250,000 (net) through tickets, tables sold, sponsorships, silent and live auctions, and individual donations. All funds raised through the Winston-Salem Heart Ball benefit heart disease and stroke research and prevention education.
United Way of Central Carolinas distributed $400,000 in Unite Charlotte grants to 24 nonprofits and grassroots organizations in Mecklenburg County. Originally established in response to the civic unrest in Charlotte in late 2016, Unite Charlotte provides early funding for organizations and programs focused on improving racial equity and increasing social capital.
The Carying Place, Inc. recently grossed a little over $171,000 at its Annual Benefit Auction & 25th Anniversary Celebration on Saturday, April 21st, at Prestonwood Country Club. The event drew over 320 attendees to the celebration, including sponsors, supporters and volunteers.
Women's Impact Fund granted five local nonprofits a combined $505,000. Goodyear Arts, MeckEd, Conservation Trust of North Carolina, Hope Haven, and The Center for Community Transitions were recognized as this year's grant recipients during the organization's annual meeting May 7th, held at UNC Charlotte Center City.
The National Endowment for the Arts awarded $15,000 to support The Arts Integration Institute this year.
The Weatherspoon Art Museum at the University of North Carolina at Greensboro received a $9,000 grant from the Lincoln Financial Foundation for its 2018-2019 Learning Opportunities for Diverse Audiences.
News about people, groups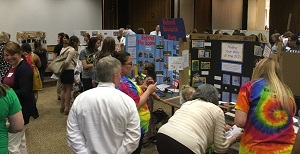 On Wednesday, May 2nd, educators, students, parents, and community members gathered at the National Institute of Environmental Health Sciences for STEMposium 2018, the culminating event of WakeEd's SummerSTEM professional development program. Nearly 100 teachers and their students presented innovative Project-Based Learning (PBL) units that were developed after teachers' immersion experiences at 20 leading STEM businesses and organizations last July.
The Winston-Salem Foundation hosted its annual Community Luncheon on May 2nd with a sold-out crowd of over 1,200 community members in attendance. The Foundation announced the recipients of the 2018 Winston-Salem Foundation Award (Retired Police Chief Barry Rountree) and the 2018 ECHO Awards (Shereen Abdelfattah, Hospice & Palliative CareCenter Veterans Outreach, Rebecca Williams and Amatullah Saleem, Venture Café).
Students from across the state gathered in Raleigh on Friday, May 4th, as the North Carolina Bar Association observed Law Day 2018. Joining the students who were honored for their efforts in the annual Law Week competitions were Judge James A. Wynn Jr. of the U.S. Court of Appeals for the Fourth Circuit who received the Liberty Bell Award.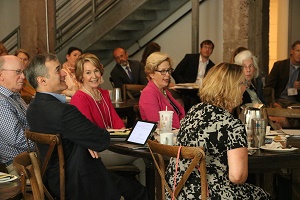 Phillips Foundation convened 100 nonprofits, philanthropists, foundations, and social investors on May 8th for its fourth Impact Investing Think Tank event, presented in partnership with Guilford Nonprofit Consortium and Action Greensboro.
The Power of the Dream added three new members to its board of directors: Tanika Giles, Gil File and Taryn Oesch.
Transitions HospiceCare, a division of Transitions LifeCare has been named a 2018 Hospice Honors Elite recipient by HEALTHCAREfirst, the leading provider of Web-based home health and hospice software, billing and coding services, CAHPS surveys, and advanced analytics.
Women's Center of Wake County celebrated Mother's Day with a weekend of activities, including yoga, a Mother's Day brunch, and a special event in partnership with JC Penny in North Hills Mall to benefit 5 women from Women's Center of Wake County.
News about opportunities, initiatives
Common Cause NC is hosting a 5K run at 10 a.m. on Saturday, May 12th in Raleigh, to support their efforts to end gerrymandering
The Equity Paradigm, a diversity, equity and inclusion consulting firm based in Durham, will hold a racial equity workshop on Sunday, June 24th, from 3-5 pm at the Duke Innovation & Entrepreneurship Initiative.
As part of the 2017-2018 Durham Independent Dance Artists season, real.live.people presents "Again, but this time with feeling" June 7th-10th, 8 p.m. at the Living Arts Collective.
SEEDS is seeking pie bakers for their 9th Annual Pie Social on May 27th at Fullsteam Brewery. All donors to the 2018 Pie Social will be entered into the Pie Contest for a chance to win the title of Best Community Pie and summer seedlings grown by the youth in SEEDS programs. Volunteer bakers get 2 free slices of pie the day of the event.
The Alzheimer's Association – Western Carolina Chapter will be launching the fourth year of its Minds in Motion Early-Stage program in South Charlotte in July. The six-month support group program is geared for those living in the "early-stage" of Alzheimer's disease or another form of dementia, and their care partners.
The 'Happiest 5k on the Planet,' The Color Run, is coming to Fayetteville on Saturday, May 19. The event will benefit Rettsyndrome.org.
Triad Goodwill will host a Career Fair in partnership with Guilford County Department of Health and Human Services on Thursday, May 10 from Noon – 4:00 p.m. at the Greensboro Public Library.
The North Carolina Planned Giving Council will hold "Planned Giving 101" on July 26th at Abernathy Laurels in Newton, NC. Registration is open now.
Burning Coal Theatre presents the 10th annual KidsWrite! New Play Festival 2018, featuring works written by local students in 6th-12th grades. The festival will take place on May 25th-26th, with performances at 7:00 p.m. Admission is $10, and tickets are available only at the door.
The Institute for Emerging Issues is launching a new three-year initiative, ReCONNECT NC, a series of six forums held throughout the state, as well as statewide work with stakeholders and partner communities. The first ReCONNECT NC Emerging Issues Forum, "ReCONNECT to Community: Increasing Civic Engagement and Dialogue," kicks off this fall in Asheville. Registration is scheduled to open July 2.
---
If you are interested in having your organization's news announced in the next News Bits, please send announcements or press releases to news@philanthropyjournal.com.