News about grants, gifts
Team Rubicon Global has received a $1 million multi-year grant from the PwC Charitable Foundation, Inc. to advance its mission of providing veterans around the world with opportunities to serve others in the wake of disasters.
Granite Communications LLC gave $5 million for the Dana-Farber Cancer Institute through its 4th Annual Saving by Shaving event at Granite's headquarters.
The Duke Endowment, the J. Marion Sims Foundation, and public and private partners have given a total of $2.2 million in funding to help create South Carolina's first College Advising Corps.
March of Dimes received a $30,870 grant from Anthem Blue Cross and Blue Shield Foundation to help prevent premature birth and improve the health of moms and babies.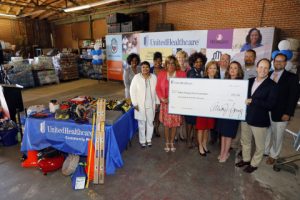 UnitedHealthcare donated $250,000 to the Baton Rouge Area Foundation to support five organizations that are helping with Southeast Louisiana's long-term, sustainable recovery after the devastating floods of 2016.
Ryder System, Inc. donated $30,000 to the Florida International University to support two of the university's educational programs in Washington, D.C.
Louisville, Kentucky-based non-profit WaterStep arrived in Mocoa on Sunday, April 9th to deliver M-100 Chlorinators and Bleach Makers to Colombian residents in order to provide safe water, especially to patients receiving care in hospitals after the recent landslide.
The Building Industry Charitable Foundation of the Building Industry Association of Greater Louisville in partnership with Kosair Charities and YouthBuild Louisville presented a dream playhouse to Addonis Thomas Jr. on March 30th.
Henry Schein, Inc. has donated more than $80,000 in health supplies and equipment to the Children's Aid Society to support five health centers located in high-need communities throughout New York City.
News about people, groups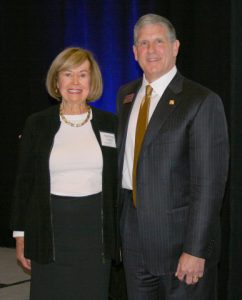 The Young People's Chorus of New York City hosted their annual Gala at Jazz at Lincoln Center on March 6th.
The North Star Fund is awarding the 2017 North Star Award to Hugh Hogan, Rashad Robinson, and Maggie Williams and the 2017 Frederick Douglass Award to African Communities Together and New Immigrant Community Empowerment.
Exchange Bank named Connie Codding, executive vice president of Codding Enterprises and president of the Codding Foundation, as this year's winner of the Frank P. Doyle Philanthropy Award.
The 33rd Annual Space Symposium, hosted by the Space Foundation, was held April 3rd-6th in Colorado Springs.
The USC Roski Eye Institute named Amir Kashani to the Opthamologists 'Rising Stars' Power List 2017.
Melissa Kenney, volunteer resources manager of Doorways for Women and Families, received the Leadership Center for Excellence's 2017 Volunteer Arlington Leadership Legacy Award for her work in helping survivors of sexual and domestic violence and families experiencing homelessness.
The Foundation for Child Development has awarded its 2017 Young Scholars Award to Anna Johnson, PhD, Michelle Maier, PhD, and Jaime Puccioni, PhD.
Vivint Smart Home w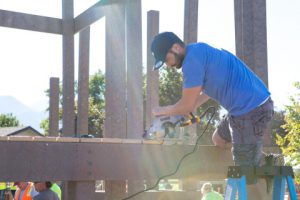 as awarded the Best Community Outreach Program at the 22nd annual SAMMY Awards for Vivint Smart Home's commitment to give back and bring families and technology together to make a meaningful impact in the lives of children with intellectual disabilities.
Octapharma USA sponsored the patient symposium "Hope Ignites: Stories to Inspire" at the Hemophilia Federation of America Annual Symposium in Providence, Rhode Island on April 7th.
The National Trust for Historic Preservation has named Jon Kevin Gossett as the organization's first chief advancement officer.
On Wednesday, March 1st, Whole Planet Foundation launched its 12th Prosperity Campaign, which funds microfinance organizations and microcredit loans to alleviate poverty in regions where Whole Foods Market sources products.
The Association of Children's Museums (ACM) has selected The Junior League as the recipient of the 2017 ACM Great Friend to Kids Award. The award will be accepted by Susan Danish, executive director of The Association of Junior Leagues International, Inc., on May 5th during ACM's InterActivity 2017 conference in Pasadena, California.
Brown Rudnick has awarded the 10th Annual Brown Rudnick Center for the Public Interest M. Robert Dushman Pro Bono Award to Thomas J Phillips and the Community Service Award to May Weekes.
The National Center on Addiction and Substance Abuse board of directors has elected Joseph J. Plumeri, senior advisor to Kohlberg, Kravis, Roberts & Co. and vice chairman of First Data Corp., to be executive chair of the organization. James G. Niven, former chair of Sotheby's The America's and a director of several nonprofit organizations, will be the organization's co-chair.
News about opportunities, initiatives
Applications for the Judith O'Connor Memorial Fund Scholarships program are now open. The program enables emerging nonprofit leaders to advance their leadership skills, learn about progressive practices in nonprofit governance, and interact with nonprofit leaders from across the country at the BoardSource Leadership Forum.
The Insurance Industry Charitable Foundation is continuing its collaboration with Sesame Workshop to
The Isaac Bruce Foundation and PNC, through the PNC Foundation, are joining together to build a playground for the Flance Early Learning Center in St.Louis, Missouri on April 18th.
Detroit Friendship House will host Fowling for Food on April 28th. The fundraiser will benefit hungry families in Hamtramck, Michigan.
The Jonsson Cancer Center Foundation at UCLA is hosting its 22nd annual "Taste for a Cure" event on April 28th in Beverly Hills, California. At the event Yael and Scooter Braun will receive the 2017 Gil Nickel Humanitarian Award and will feature wine tastings, sensational cuisine, a live auction, and special guest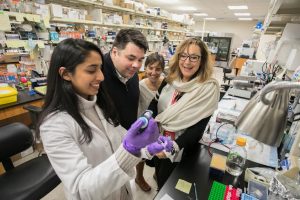 performance by acclaimed musical artist, Ariana Grande.
George and Olga Tsunis have established the Tsunis Fellowship for Cancer Prevention at Stony Brook University. The fellowship is an endowed fellowship for an MD or PhD pursuing biomedical research at the Stony Brook University Cancer Center. It aims to attract a well-qualified scholar from Greece or of Greek decent, with the goal of training these physicians and scientists at Stony Brook, and then returning them to Greece to help the country overcome its current difficulties.
Amalfi Estates in Los Angeles is launching the "10% Giving Pledge Challenge" where real estate agents and firms will donate 10% of their commission to charity.
The HealthWell Foundation launched a new fund to provide assistance to patients living with amyotrophic lateral sclerosis (ALS) where HealthWell will provide up to $15,000 in copayment or premium assistance to eligible Medicare patients who have annual household incomes up to 500 percent of the federal poverty level.
The law firm of Baker Donelson is accepting applications for its annual Community Grants Program from non-profit organizations serving at risk youth in the Baltimore and Washington D.C area.
---
If you are interested in having your organization's news announced in the next News Bits, please send announcements or press releases to news@philanthropyjournal.com.