News about grants, gifts
The Central Florida Foundation's 100 Women Strong giving circle issued a $45,000 grant to the Early Learning Coalition of Orange County, which is partnering with the University of Central Florida on a pilot program to address the social and emotional needs of children at two Pine Hills child care centers.
Dr. Richard A. Chaifetz and Jill Chaifetz increased their giving to Saint Louis University to $27 million, including $15 million to the University's business school. In 2007, the couple provided the lead gift of $12 million that enabled the construction of Chaifetz Arena.
Wells Fargo & Company donated more than $286.5 million in 2017 to more than 14,500 nonprofits. In addition to corporate donations, Wells Fargo's team members volunteered a record 2 million hours in 2017, and more than 65,300 team members pledged $85 million to 40,000 nonprofits during the company's annual employee giving campaign.
The V Foundation for Cancer Research awarded $25 million for cutting-edge cancer research in 2017 – bringing the total amount the Foundation has awarded to more than $200 million.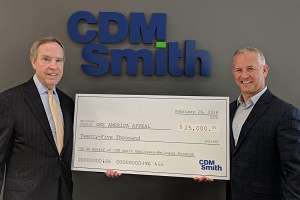 As part of their effort to donate up to $50,000 to various charities each quarter, engineering and consulting firm CDM Smith made a $25,000 gift to One America Appeal, the nonprofit founded by the five former Presidents of the United States to support hurricane relief efforts, and $25,000 to The Jack McGovern Coats' Disease Foundation.
FRONT International: Cleveland Triennial for Contemporary Art has reached its original fundraising goal of over $4 million dollars five months ahead of the opening.
The Blackbaud Index reported that overall charitable giving to nonprofits increased 1.8 percent while online giving increased 13.1 percent for the three months ending January 2018 compared to the same period in 2017.
News about people, groups
The Monarch Butterfly Habitat Exchange, an innovative program seeking to crowdsource funding and habitat to save the monarch butterfly from extinction, is now open for business. Through the exchange, landowners in Missouri, Texas and California are paid to create, maintain and improve habitat on their property through a variety of restoration activities. All funds raised through the exchange are directed to Biodiversity Works, a Texas-based nonprofit responsible for administering the program.
More than 25,000 elementary school-aged students around the country will participate in the GSK Science in the Summer free, interactive STEM enrichment program. The program is administered by The Franklin Institute in Philadelphia.
TEACH (Together Educating All Children in Hospitals), which has been conducting science experiments with ill children in C.S. Mott Children's Hospital in Ann Arbor, is expanding to a second hospital: the Children's Hospital of Michigan in Detroit.
Nearly 200 college students from 19 schools across the country will spend their school break installing no-cost solar for low-income families, gaining hands-on workforce training, and connecting with solar industry careers through GRID Alternatives' Solar Spring Break program.
Beverly Hills MD and Smile Train have successfully funded 1,000 cleft repair surgeries through their existing three year partnership.
Jupiter Medical Center Foundation hosted its annual Leaders in Philanthropy Dinner at Lost Tree Club on Wednesday, February 7. The night honored the Foundation's top donors whose philanthropy has helped to transform Jupiter Medical Center, as well as continue to allow the hospital to recruit the best physicians, acquire advanced medical technology, and build state-of-the-art facilities.
Small Forces, a team of creatives and strategists dedicated to finding, telling, and amplifying the stories of nonprofits and other worthy organizations and individuals through short documentary-style films provided at no cost, has released its latest piece, which focuses on Chicago's Parents for Peace and Justice.
Moving from a relief effort to long-term recovery in the wake of Hurricanes Irma and Maria, Volunteers of America is working with Puerto Rico officials, other human service organizations, residents and many other current and potential partners to further determine the organization's role in assisting Puerto Rico with rebuilding.
News about opportunities, initiatives
A year after the CrowdRise acquisition, GoFundMe is launching CrowdRise by GoFundMe, a new self-serve product that builds on the strengths of these two platforms to offer the best overall fundraising solution for nonprofits.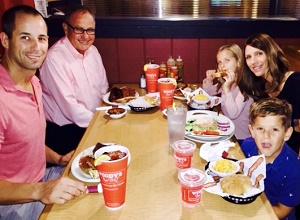 No Kid Hungry is teaming up with Woody's Bar-B-Q to host a number of fundraising events throughout the remainder of the year aimed at increasing awareness and aiding in the fight to end child hunger in the U.S.
The Wyland Foundation's 7th annual Mayors Challenge for Water Conservation launches in Plano, Texas on April 3rd. This friendly competition between cities across the country uses a series of online pledges to see which city can be the most water wise.
Make A Difference Now, a nonprofit organization that provides quality education and care to vulnerable youth, and Adventures Within Reach, a travel company offering international treks and cultural tours, will host charity hikes for 2018 and 2019 around the world to raise money for vulnerable children and schools.
Daymaker will launch its newest giving opportunity, Play for Puerto Rico on March 15th. Play for Puerto Rico is a collaboration between Daymaker, Boys & Girls Clubs of America and Boys & Girls Clubs of Puerto Rico to provide books, games, toys, and other enrichment items for thousands of children who were affected by the recent hurricanes.
RedRover released "Raja Book 2," the second innovative digital book and game in their E-Books for Empathy project, The Restricted Adventures of Raja, part of the RedRover Readers Program.
---
If you are interested in having your organization's news announced in the next News Bits, please send announcements or press releases to news@philanthropyjournal.com.