News about gifts, grants
Arts in the Armed Forces (AITAF) received a $200,000 grant from Craig Newmark Philanthropies in support of its 2019 season. AITAF was founded by actor and Marine Adam Driver in 2008. Its mission is to provide high-quality arts programming for active duty service members, veterans, military support staff and their families free of charge.
The D'Adario Foundation raised $45,000 for its Music Education for Girls Initiative on International Women's Day. Funding will go toward opportunities for young women the D'Addario Foundation supports, including free instrument instruction, college scholarships, and all-female programming.
U.S. Department of Veterans Affairs and Sanford Health will provide pharmacogenetic testing to U.S. veterans at no cost to the veterans through a donation-funded program as part of a partnership to improve patient care and lower costs related to adverse reactions to medications. The program, which launches this year at a pilot site in Durham, NC, will initially enroll cancer survivors but will eventually expand to up to 250,000 U.S. veterans at 125 sites by 2022.
Sierra Nevada College received $225,000 from the E. L. Wiegand Foundation to expand network technology. Funds will support maintaining and expanding the college network infrastructure to enable secure audio and video traffic for two-way teleconferencing. The project will also enhance and secure student services in admissions, financial aid, student accounts, academic records and library services.
United Parcel Service (UPS) Foundation provided a $40,000 grant to the Grado Department of Industrial and Systems Engineering for the UPS Doctoral Fellowship in Human Factors and Safety at Virginia Tech. To date, the UPS foundation has awarded 28 fellowships at Virginia Tech now totaling over $1 million.
JPMorgan Chase is funding a $350 million, five-year global initiative to prepare for the future of work and meet the growing demand for skilled workers. New Skills at Work focuses on creating economic mobility and career pathways for underserved populations and developing new training programs to prepare the firm's workforce for changes in technology and business.
News about people, groups
The San Diego Foundation Board of Governors selected Mark Stuart as President and Chief Executive Officer. Stuart previously held positions as Chief Development & Membership Officer of San Diego Zoo Global and Associate Dean of Development and Alumni Relations for the University of Pennsylvania School of Veterinary Medicine.
Thomson Reuters Foundation, the charity arm of the world's largest news and information provider, renewed a three-year funding commitment from Omidyar Network for PLACE (Property, Land, Access, Cities, Empowerment). PLACE is the first global digital platform dedicated to land and property rights issues.
The Mission Continues, a national veteran nonprofit organization, named Mary Beth Bruggeman as President and Nana Adae as Board Chair of the organization. Bruggeman served eight years in the U.S. Marine Corps and was most recently VP of Program Strategy. Adae served in the U.S. Navy for seven years and is a Managing Director with JPMorgan Chase & Co.
Human Rights First welcomed Bishop Garrison as Director of National Security Outreach and of Veterans for American Ideals. Garrison, who is an Army veteran and West Point graduate, recently served as interim executive director of the Truman National Security Project.
Institute for Women's Policy Research released the first comprehensive gender analysis of the potential impact of technological change on jobs in the United States, with an emphasis on the likely effects for women. Women, Automation, and the Future of Work explores how gender segregation of the U.S. labor market and trends in digitalizing jobs, gig work, and high-tech fields signal a potential trajectory toward greater gender inequality in the future of work.
The Noguchi Museum in New York selected fashion designer Rei Kawakubo as recipient of the 2019 Isamu Noguchi Award, given to individuals who share Noguchi's spirit of innovation, global consciousness, and commitment to a cultural exchange between the East and West.
BNP Paribas and Bank of the West awarded the fourth annual BNP Paribas Open Scholarships to Daniel Ramirez, Maria Lopez, Emily Santillanes and Gilberto German. Each student attends a high school in Thermal, CA and received a $15,000 college grant at an event at their school.
Florida Sheriffs Youth Ranches named its 2019 board of directors, which includes seven sheriffs and other community leaders from throughout Florida: Charlotte County Sheriff Bill Prummell, Nassau County Sheriff Bill Leeper, Dan Hager, Vicky Talmadge, Dr. Patrick Coggins, Bay County Sheriff Tommy Ford, Levy County Sheriff Bobby McCallum, Gilchrist County Sheriff Bobby Schultz, Flagler County Sheriff Rick Staly, Manatee County Sheriff Rick Wells, Mark Becker, Tucker Lemley, Rose Mary Treadway Oelrich, and Dr. Jim Sewell.
News about opportunities, initiatives
Sierra Club is providing an opportunity for members and supporters to go solar with a SunPower home solar system. Sierra Club will provide those who purchase a system with a $1,000 mail-in rebate. In turn, SunPower will give Sierra Club $1,000 to support the organization's mission. See more information.
Getty Foundation and the American Council of Learned Societies named ten recipients of Getty/ACLS Postdoctoral Fellowships in the History of Art. The fellowships support an academic year of research and/or writing by early career scholars for a project that will make a substantial and original contribution to the understanding of art and its history.
The Carter Center's Mental Health Program is accepting applications for eight, one-year journalism fellowships aimed at enhancing public understanding of mental health and substance use conditions. Deadline for applications is Wednesday, April 10th. Learn more.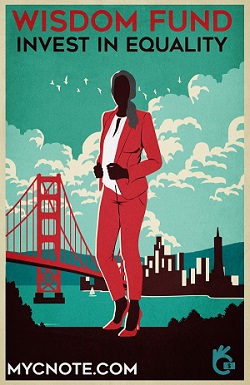 TruFund Financial Services launches The Wisdom Fund, an impact investment initiative to drive millions in funding to women entrepreneurs.
Starlight Children's Foundation, with support from Niagara Cares, will hold its My Starlight Gown Contest in April. Kids and families are challenged to create and submit an original design for a new Starlight Gown, the gowns that are provided to children in hospitals. Contestants of any age can download a gown template to create an original design for submission. Or, children currently enrolled or homeschooled in grades 3-8 can participate in a Social and Emotional Learning classroom-based curriculum created by Scholastic. For every design submitted to Scholastic, Niagara Cares will donate a book to a hospitalized child up to a maximum of 7,500 books.
Duke University Population Health Sciences Summer Institute extended its program to two weeks and offering two-day workshops this summer: June 3rd – 4th: Patient-Reported Outcomes; June 5th – 6th: Qualitative Research: Study Design and Applied Thematic Analysis; June 10th – 11th: Topics in Population Health Sciences, and June 12th – 13th: Dissemination & Implementation Science. See detailed course descriptions.
Northwest Evaluation Association launched the Educators for Equity Grant Program, which will award grants of up to $10,000 to schools, school districts, and non-profit organizations to help fund initiatives designed to support the academic development of underserved students. Educators, including teachers, principals, and education specialists, may apply for grant awards for their schools or districts. Deadline: June 30th.
News about upcoming events
3.31.19 The Registry presents Bias: Our Own and Others at the East Bay Community Foundation in Oakland from 2:00 p.m. to 4:00 p.m. Tickets are $10.
4.2.19 Foundation for Child Development's Young Scholars Program will host its Children of Immigrants Webinar Series, a three-part webinar series highlighting issues related to children of immigrant families/immigrant children. Promoting Early Learning for Children of Immigrants: Family and Early Care and Education Supports is the first webinar on Wednesday, April 3 from 2:00 p.m. to 3:30 p.m.
4.4.19 Listening Ground will host a conversation with Dr. Greg Valerio, founder of a Celtic Monastic community on the South Downs of England, and Larry Littlebird, Pueblo Elder and Master Storyteller, at the South Broadway Cultural Center in Albuquerque, NM at 7:00 p.m. General admission is $10. Reserved seating.
4.6.19 WriteGirl and the Academy of Motion Picture Arts & Sciences is hosting Lights, Camera, WriteGirl!, a fundraiser hosted by actress Lauren Graham, along with Seth Rogen, Wendi McLendon-Covey, Wayne Brady, and Keiko Agena. The actors will perform scenes written by underserved teen girls at Linwood Dunn Theater in Hollywood, CA. WriteGirl is a creative writing and mentoring nonprofit serving more than 500 underserved teen girls annually. Tickets and opportunities to sponsor a girl and her parent are available.
4.08.19 The Blue Card, a nonprofit dedicated to aiding Holocaust survivors, will host The Blue Card Gala 2019 at the Museum of Jewish Heritage – A Living Memorial to the Holocaust in New York City. Andy Cohen, an Emmy Award-winning television producer, will host the event which includes a presentation of awards to individuals and groups dedicated to supporting the needs of Holocaust survivors and advancing human rights worldwide.
4.9.19 Aminta Ventures and JPMorgan Chase & Co. will host a fireside chat with Leslie Miller Saiontz, founder of Achieve Miami, community activist, and impact investor. Saiontz is dedicated to narrowing the opportunity gaps facing low-income communities and invests in companies and organizations focused on community transformation. Alia Mahmoud will moderate the session. Mahmoud is co-founder of Aminta Ventures and Director of Leadership Development at Radical Partners.
4.12.19 Dan River Nonprofit Network will host Social Media & Online Engagement for Nonprofit Boards from 9:00 a.m. to 1:00 p.m. at Goodwill Industries of South Central Virginia. Presenter, Jeanne Allen, will discuss how nonprofits can match board members' responsibilities with different social media and online platforms. Tickets: $25 for members. $40 for guests.
4.20.19 Emily Krzyzewski Center is hosting a free College Expo from 1:30 p.m. to 5:00 p.m. College staff will hold interactive workshops covering topics like college applications, financial aid, and more. Registration is free and open to the public.
5.07.19 BoardSource Leadership Forum takes place May 7th – 8th in St. Louis. More than 1,000 board members, chief executives, staff, and nonprofit professionals come together to discuss the newest thinking and best practices in nonprofit governance and leadership. Registration rates are based on annual revenues.
5.10.19 StoryCenter is holding The Digital Storytelling Workshop around the country. The three-day program includes one-on-one guidance and hands-on video editing experience, and a completed digital story. Upcoming workshops: April 10th-12th in Berkeley, CA and April 22nd-24th in New York, NY.
5.18.19 Erika's Lighthouse is celebrating its 15th Anniversary with its annual gala in Glenview, IL at the Valley Lo Club from 7:00 p.m. to 11:00 p.m. Erika's Lighthouse was founded in 2004 by Ginny and Tom Neuckranz after their teenage daughter lost her life to suicide. The nonprofit organization develops and provides free teen depression awareness programs and resources to middle school and high school communities around the country.
5.26.19 ArtWeek MA takes place April 26th to May 5th. Presented by Highland Street Foundation and produced by the Boch Center, ArtWeek celebrates arts across the entire state of Massachusetts.
5.27.19 The V Foundation for Cancer Research will hold its Virginia Vine event at Stone Tower Winery and the Salamander Resort & Spa in Loudoun County, Va. Joe Theismann, former quarterback of the Super Bowl XVII champion Washington Redskins, will host the event and Paul Begala, commentator for CNN and professor at Georgetown University, is a featured speaker. See tickets and table information.
---
If you are interested in having your organization's news announced in US News, please send announcements or press releases to news@philanthropyjournal.com.