News about grants, gifts

The Community Foundation of Western North Carolina approved five focus area grants totaling $95,768 to support regional projects in Food and Farming and Natural and Cultural Resources.
Curamericas Global raised more than $350,000 through their second-annual Mom-A-Thon fundraiser that launched November 28, 2017. The funds will help support the organization's mission and work in partnering with communities in various countries to provide health services and education to mothers and children around the world.
Housing for New Hope met their fundraising goal for their Hearts for Durham campaign, raising more than $98,000 to support housing solutions in Durham.
News about people, groups

Triangle Nonprofit Communicators hosted FailFest 2018, on March 7th.
Applications for HandsOn NWNC's Chuck Kraft Scholarship are due March 30th. The scholarship, named in honor of their first board chair, provides full tuition to HandsOn NWNC's Nonprofit Essentials Certificate program for one staff or board member currently working with a nonprofit that serves children and/or youth in Forsyth, Davie, Davidson, Stokes, Surry or Yadkin County.
The Athenian Press & Workshops, a bookstore, gallery, and resource center for women and femme creatives, will host a grand opening event on March 25th from 11 a.m. to 4 p.m. at its new brick and mortar location in Wilmington.
StepUp Ministry will host a Fiesta to honor their volunteers on April 16th at Cantina 18 at Cameron Village.
On March 1st, Marbles Kids Museum began demolition of a former speedometer shop to make way for a colorful public plaza the museum is calling "Color Pop Corner."
Ellevate Triangle NC hosted their Network Signature Luncheon on March 8th.
Faith leaders and community members joined in solidarity with DACA and TPS recipients demanding a clean Dream Act outside of Senator Thom Tillis' office on Tuesday, March 6th. Following the meeting, there was an action led by El Pueblo's Youth Council, demanding that Congress reaches a deal on a Clean DREAM Act.
Morrisville Innovation Foundation announced the 2018 HOTTovation Call for Applications this week.
Shift NC's State of Adolescent Health Forum took place on March 9th at The Friday Center.
News about opportunities, initiatives

Grant applications are now being accepted for the Martin County Community Foundation, Craven County Community Foundation, Chowan Community Funds Foundation, Bertie-Hertford Community Foundation, Northern Albemarle Community Foundation, and Beaufort-Hyde Community Foundation community grantmaking funds. Visit nccommunityfoundation.org for information about applying. The deadline for submitting applications is noon April 10.
Sponsorships and tickets are available for the 2018 Music for Me Fine concert.
Applications are now being accepted for the 2018 GSK IMPACT Awards. The GSK IMPACT Awards will honor up to ten local nonprofit organizations with $40,000 each in recognition of their exceptional achievements, overall excellence and best practice in contributing to a healthier Triangle Region.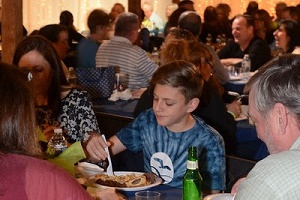 The Shore Grief Center is hosting the 5th Annual Comfort Food Cook Off on Friday March, 23rd at The Cotton Company Event Space.
Applications are now open for Activate Good's Teen Leadership & Service Summer Program. The week-long intensive programs for high school students will take place June 18-22 and July 23-27.
Spring Chicken Day at Piedmont Farm Animal Refuge is on Saturday, March 31st from 11am – 3pm.

Family Care Center of Catawba Valley is hosting their 3rd annual Second Chance Silent Auction & Brunch on March 17th.
Triangle North Healthcare Foundation is seeking partners to help measurably improve health in Vance, Warren, Franklin, and Granville counties, with the opening of the grant funder's sixth grant cycle on March 15, 2018.
Burroughs Wellcome Fund's Student Stem Enrichment Program grant application is due April 18th.
HandsOn Northwest North Carolina will announce category winners for the 2018 Governor's Volunteer Service Awards on April 25th at Bridger Field House.
Hospice and Palliative Care of Greensboro kicks off their new season of Lunch & Learn at the Lusk Center on March 15th. Each event is free and open to the public. All workshops take place from noon – 1 p.m. with check-in beginning at 11:30 a.m.
The Equity Paradigm will host its signature 2-hour Racial Equity Workshop on Sunday, April 8 from 3-5pm at Stanford L. Warren Library in Durham. Space is limited. Tickets are $10 until March 23rd and can be reserved at www.racialequityworkshop.eventbrite.com.
IntraHealth International's annual SwitchPoint conference will take place April 26th and 27th at the Haw River Ballroom in Saxapahaw.
---
If you are interested in having your organization's news announced in the next News Bits, please send announcements or press releases to news@philanthropyjournal.com.