News about gifts, grants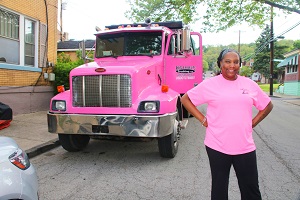 Wells Fargo donated $444 million to 11,000 nonprofits in 2018. The company's philanthropy addresses community issues around affordable housing, small businesses, education, and sustainability. Celeste Phillips started Big LuLu's Trucking LLC, with the help of Bridgeway Capital and Wells Fargo's Diverse Community Capital program, a $175 million commitment to small businesses through 2020.
JP Morgan Chase committed $15 million to support neighborhoods in Detroit. Part of a $150 million, five-year commitment to the city, the investments enable the Strategic Neighborhood Fund to finance projects that lack access to traditional financing, attract additional capital, and increase access to affordable housing.
The Getty Foundation, as part of its Digital Art History initiative, awarded four grants that support the use of geospatial and digital mapping tools to document and analyze cultural sites around the world. University of Massachusetts Amherst received $245,000 for the Pompeii Artistic Landscape Project. Stanford University received $220,000 for the Living Archive of Çatalhöyük. Rice University received $216,000 for the imagineRio. University of Exeter received $230,000 for the project Immersive Renaissance
Global Mobility Solutions hosted its annual Partner Forum in Scottsdale this month to recognize relocation service providers. This event featured a raffle resulting in a donation of over 58,000 meals to St. Mary's Food Bank in Phoenix.
RedRover and Purina introduced the Purple Leash Project to enable more domestic violence shelters across the United States to become pet-friendly, so victims of domestic abuse can escape with their pets. Purina is committing more than $500,000 over the next four years to establish grants that will be awarded on a biannual basis to provide funding and resources to transform domestic violence emergency shelters into safe spaces for survivors with pets.
News about people, groups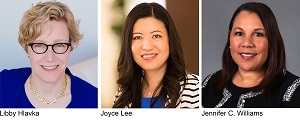 Northwest Area Foundation welcomes three new board members: Libby Hlavka, President of the Driscoll Foundation; Joyce Lee, CFO of Marguerite Casey Foundation; and Jennifer C. Williams, Bank of America's financial center operational excellence executive.
Manhattan Institute announced three recipients of their 2019 Civil Society Fellowship: Sharpel Welch, Community Renewal International Friendship House; Reid Porter, Advocates for Community Transformation, and Luma Mufleh, Fugees Family, Inc. Each nonprofit leader receives a $10,000 stipend, media training, communications support, and a retreat in New York City.
Cognizant U.S. Foundation named Kristen Titus as Executive Director. Titus is charged with improving and expanding opportunities for U.S. workers in the digital economy by supporting digital literacy education and skills programs. Titus most recently served as chief technology and innovation officer for New York State.
Nonprofit HR received the Best of Staffing for Talent Award for the fourth consecutive year. Presented by ClearlyRated and CareerBuilder, the award goes to firms that focus on superior service to job seekers.
News about opportunities, initiatives
General Mills is accepting applications from young people, ages 13 to 21, to submit ideas for a chance to win $50,000 to further their program, Feeding Better Futures Scholars Program. Winners will receive industry mentorship and exposure at the Aspen Ideas Festival. The platform encourages youth to share their solutions to fight hunger, reduce food waste, and grow food more sustainably. Apply by February 26th.
The Field Foundation and the John D. and Catherine T. MacArthur Foundation are partnering on two initiatives to support a more equitable Chicago. Leaders for a New Chicago will support individuals who are leaders in their communities, professional fields, or interest areas with the goal of advancing equity and opportunity. The Media & Storytelling program will award grants to strengthen and expand the reporting and storytelling capacity of a more diverse set of Chicago news outlets, reporters, and artistic storytellers. A total of $5 million in grants will be awarded. Learn more about eligibility. Submissions due March 1st.
The 2nd International Conference on Disability Studies, Arts & Education is accepting proposals. The conference, takes place October 3rd through 5th at Moore College of Art & Design. Deadline to apply is March 1st.
Cornell University is accepting applications for their Global Leadership Fellows Program, an intensive training course August 26th through November 15th. Participants must have a passion for enhancing food security, environmental sustainability and access to scientific innovations. Learn about the application process and apply by March 1st.
Artist Trust fellowship applications are open for practicing professional artists residing in Washington State. The month-long Yayasan Bali Purnati Residency on the island of Bali includes airfare, food and lodging, and a private studio space. The Vadon Foundation Fellowship Award for Native Artists is an unrestricted award of $10,000 to a Native artist of any discipline residing in Washington State. Apply by March 4th.
StoryCenter is holding The Digital Storytelling Workshop in New York, Berkeley, Toronto, Los Angeles and Denver. The three-day program includes one-on-one guidance and hands-on video editing experience, and a completed digital story. Upcoming workshops : March 7th-9th in Denver, CO and March 13th-15th in Berkeley, CA.
The National Academies of Sciences, Engineering, and Medicine hosts a symposium highlighting Evidenced-Based Interventions to Address the Underrepresentation of Women in Science, Engineering, and Medicine on March 11th at the National Academy of Sciences in Washington, DC. Keynote speaker: Congresswoman Donna Shalala, former President of the University of Miami and Secretary of Health and Human Services, currently representing Florida's 27th district. RSVP by March 7th.
Kiva will match donations made on March 8th with a goal of funding 10,000 women's projects in honor of International Women's Day. The nonprofit aims to expand financial access through their online platform to help women in underserved communities.
American Express NGen Fellows Program is accepting nominations for the 2019 American Express NGen Fellows program now through March 11th. In partnership with Independent Sector, the program provides leaders, age 40 and under, with tools and networking opportunities necessary to grow personally and professionally. See nomination information.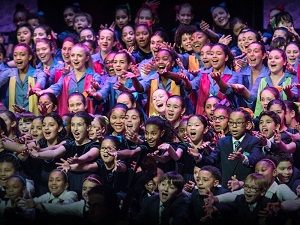 Young People's Chorus Annual Gala Benefit Concert takes place Tuesday, March 12th at 7:00 p.m. at Jazz at Lincoln's Center's Frederick P. Rose Hall. Tickets priced at $50, $85, $95, $150, $500, are available only through the JALC box office.
The Chronicle of Philanthropy will hold a webinar, General Operating Support: Making the Case to Grant Funders, on Thursday, March 14th at 2:– p.m. Guests include Mindy Aldridge, President, Grace S. and Linton Nelson Foundation, and Kathy Reich, Director of Building Institutions and Networks at Ford Foundation. Early-Bird tickets: $79. After March 7th: $99. Registration.
The Boston Women's Fund, a nonprofit supporting community-based organizations and grassroots initiatives run by women, girls, and gender nonconforming people, will award $50,000 to Boston area organizations as part of its Spring Grant Cycle. Submission deadline is March 15th.
Rare, in collaboration with National Geographic Society, hosts BE.Hive: Climate Change Needs Behavior Change, a one-day summit to explore global climate change through the lens of human behavior, on Tuesday, March 19th from 9:00 a.m. to 5:00 p.m. at the National Geographic Museum, Washington, DC. Student rate: $99.00. Standard rate: $299.00. Registration.
Mitsubishi Electric America Foundation will award $1,400,000 in new grants to eight organizations as part of its national M>PWR possible Initiative. Grants will find projects designed to empower youth with disabilities to lead productive lives through increased employment, notably in science, technology, engineering, arts/design, and mathematics.
The Carter Center's Mental Health Program is accepting applications for eight, one-year journalism fellowships aimed at enhancing public understanding of mental health and substance use conditions Deadline for applications is Wednesday, April 10th. Learn more.
cyclekids hosts their Spring Classic event on Thursday, May 2nd from 6:00 p.m. to 9:00 p.m. at Shop Studios in New York City. Notable city chefs will prepare food and guests can bid on auction items. Funds raised at the event support children living in poverty. Tickets: $175 to $1,400.
---
If you are interested in having your organization's news announced in the next News Bits, please send announcements or press releases to news@philanthropyjournal.com.