News about grants, gifts
The Orton Foundation, the North Carolina affiliate of Louis Bacon's Moore Charitable Foundation, has awarded the Southern Environmental Law Center a $75,000 grant to support its work defending clean air, clean water, and coastal areas in southeastern North Carolina.
Crisis Control Ministry has received a $2,500 grant from the Food Lion Charitable Foundation to help feed local residents. Crisis Control Ministry will use the gift toward food purchases and nutrition education.
Turning Point of Union County was awarded $71,475 in salary support from Sisters of Mercy of North Carolina Foundation for the bilingual domestic violence case manager, the victim advocate in the Children's Advocacy Center, and a domestic violence counselor, as well as IT support.
News about people, groups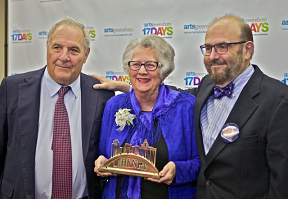 On January 28th, Betty Cone was presented The O.Henry Award by the Greensboro Partnership and ArtsGreensboro. Over the past 40 years, Betty's vision to use the Carolina Theatre and two major festivals to turn downtown Greensboro into an inclusive, family-friendly destination has completely transformed the city.
The N.C. Center for Nonprofits has appointed a Transition and Search Committee that will work closely with its statewide Board of Directors to hire the N.C. Center's next President. The six individuals include Brian Buzby, Lance Edwards, Barbara Jessie-Black, Tog Newman, Jane Preyer, and Emily Zimmern.
The Wake Boys & Girls Clubs kicked off their 50th Anniversary Celebration at a luncheon on February 16th at the Ralph E. Capps Teen Center in Raleigh. To commemorate this milestone, the organization will be holding various events and fundraisers over the next 14 months. The celebration will end with a gala on Saturday, May 6th, 2017 .
The Greater Durham Chamber of Commerce Board of Directors has named Geoff Durham as its new President and CEO. Durham's first day with the Chamber will be April 1st. As President, he will help set the future direction of the Durham business community through economic development, public policy and investor relations.
Durham's Partnership for Children, a Smart Start Initiative, announces the launch of the Early Childhood Training Institute to provide training and resources for professionals who work with families with young children.
The 2nd annual Create Good Conference will take place on April 4th and 5th at the Cary Arts Center. This year's conference includes a full-day event plus an add-on pre-conference workshop with Kivi Leroux Miller.
Community Workforce Solutions, Inc. will hold a Casino Night fundraiser on February 27th at Marbles Kids Museum. Proceeds from this event will support their efforts to start a food service training program by helping to raise $50,000 for the purchase of equipment for a planned commercial-grade kitchen.
In honor of Fair Use Week 2016, join local lawyers from Triangle ArtWorks "Law + ArtWorks" Group on February 25th for a discussion of Fair Use and how it applies to the arts community.
On February 19th, Kidznotes performed in a special presentation of their final project from Kidznotes's NC Arts Council residency with the NC's famous "Authoring Action" and Nathan Ross Freeman.
Band Together NC has announced the lineup for this year's Main Event concert on May 14th at Red Hat Amphitheater. Progressive bluegrass band Trampled By Turtles will headline the show, joined by the Americana band The Devil Makes Three. All proceeds from the event will benefit the 2016 Band Together/Kidznotes partnership.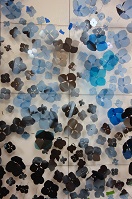 Metalsmith and jewelry maker Julia Barello's large scale installation "Strange Gardens" is now on exhibition at the Turchin Center for the Visual Arts, through August 6th.
Tickets are available for WomenNC's "Global-to-Local Forum" on Thursday, February 25th. The evening will feature keynote speaker Wake County Commissioner Caroline Sullivan, presentations from WomenNC 2016 Fellows on various gender equality topics, and information on WomenNC's advocacy work.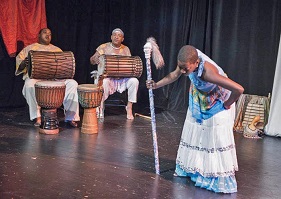 Free to the public, the Mint Museum Randolph invited guests of the museum to watch dances and drumming of the African continent with Oneaka Dance Company, tribal-inspired face painting by artist Cathy Courtlandt McElvane, and a viewing of masks and artifacts from various cultures and countries showcased in the Mint's Arts of Africa collection.
In celebration of the 6th Annual Hispanic League Zumbathon and American Heart Month, the Hispanic League and the American Heart Association teamed up to bring the Hispanic League Beating Hearts Zumbathon to Winston-Salem.
Visual Art Exchange (VAE) held its annual For the Love of Art auction and gala. Proceeds help to continue VAE's mission.
News about opportunities, initiatives
The Young Nonprofit Professionals Network Triangle NC #NonprofitSTRONG Summit is on April 22nd, 2016 at the McKimmon Conference & Training Center in Raleigh. The annual conference brings together nonprofit professionals from across the region for a full day of networking and professional development.
Third Space Studios is inviting nonprofits with budgets below $2 million to participate in this year's Individual Donor Benchmark Project.
Wilkes Community College is pleased to announce scholarships are available through a grant made by the Golden LEAF Foundation to the North Carolina Community College System. Eligible students must demonstrate financial need and reside in rural counties that are tobacco-dependent and/or economically distressed. The deadline for Spring 2016 semester applications is February 12th.
Special Olympics Orange County is hosting a basketball tournament on Saturday, February 27th in UNC Rams Head Gym. The tournament will draw more than 40 teams from Forysth to Cumberland County. Orange Country will host the 3v3 tournament and individual skills competition from 1:00pm-4:30pm. Durham County will host a 5v5 tournament at Northern High School and Edison Johnson Community Center.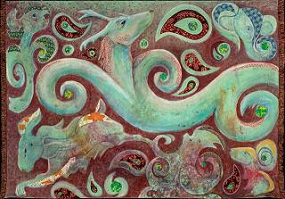 The Durham Arts Council Annual Call for Artists is now open on CAFE. Deadline to apply for solo or special exhibits in the DAC Allenton or Semans Galleries or Prefunction Corridor of the Durham Convention Center is March 18th.
At the AFP NC Triad Monthly Meeting on February 23rd, Brett Eaton of Wake Forest University will present "Storytelling for Fundraising Success", where attendees will learn how storytelling can be broken down into a simple three-part formula and how storytelling can lead to fundraising success.
ArtsGreensboro has opened its 2016-2017 Project Support Grant program. These one-year, competitive grants are for arts organizations or individual artists (working with a fiscal sponsor) with arts projects commencing on or after July 1st, 2016. Mandatory workshops are scheduled for Thursday, February 25th, 2016, and the application deadline is 5 pm on Friday, April 1st, 2016.
Early registration for Scaling STEM's Creator Fair ends on February 24th. The conference will be held at Research Triangle Park and will allow participants to visit stations that demonstrate student engagement.
---
If you are interested in having your organization's news announced in the next News Bits, please send announcements or press releases to news@philanthropyjournal.com.