News about grants, gifts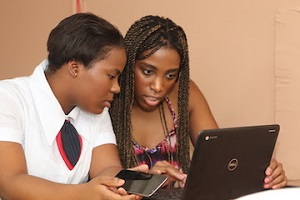 Shots Box, a monthly subscription box featuring spirits samples from craft distilleries, made a commitment to raise $12,000 in one year for The Thirst Project to help end the global water crisis.
Vibrate Higher Foundation unveiled the computer lab they developed alongside the administrative staff at the ISCCH School in Haiti. The Foundation donated 50 gently used laptops, tablets, headsets, and hard drives to fill the technology lab and further enrich the education of the school's students.
News about people, groups
The Hear the World Foundation and World Wide Hearing Foundation International jointly founded a program in 2016 to test underserved children in Peru for hearing loss. As of November 2018, the goal has been reached for examining more than 30,000 children from under-served communities in Lima and the surrounding areas.
The Centre for Social Innovation is thrilled that the Canadian federal government has committed a $805 million investment in social innovation. By creating a Social Finance Fund ($755 million over 10 years) and a capacity building Investment and Readiness fund ($50 million over 2 years), Canada will help unlock the potential of the millions of people working in social purpose organizations across the country.
On November 20, Libyan security forces forcibly disembarked 81 refugees and migrants who remained on the Panamean-flagged cargo ship Nivin. The ship had been docked in the commercial port of Misrata since November 10, when 97 people aboard a rubber boat in distress were rescued in international waters by the Nivin while attempting to cross the Mediterranean.
APO Group appointed a former Orange Africa and Middle East Senior Executiveas APO Group's Chief Executive Officer on December 3.
The results of the 2019 International Coach Federation (ICF) Global Board of Directors election have been finalized. Jean-Francois Cousin, MCC (Thailand), has been elected to a one-year term as 2019 ICF Global Board Chair. He was also selected to serve a second two-year term as an ICF Global Board Director.
Developing countries are struggling to provide HIV-positive children with World Health Organization-recommended treatments because pediatric versions of HIV medicines don't exist, are priced out of reach, or haven't been registered in all countries that need them, said the international medical humanitarian organization Doctors Without Borders/Médecins Sans Frontières ahead of a Vatican City meeting of HIV stakeholders on scaling up diagnosis and treatment for children.
Thousands of people shot by the Israeli army during protests in Gaza this year are overwhelming the Gazan medical system with complex wounds, infections and disabilities, according to Doctors Without Borders/Médecins Sans Frontières.
SEVENmile Venture Lab, operating as a not-for-profit, was founded on November 28 at a gala event in Manly.
Australia Wildlife Conservancy reached a historic milestone with the release of the first Bilbies into the Pilliga, as part of our groundbreaking partnership with the New South Wales Government.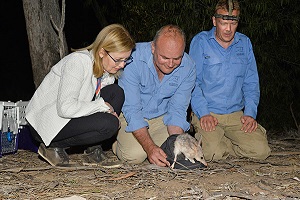 Moses Tai has started his non-profit African Development Choices that will develop and empower citizen participation to make the choices that will most benefit local communities.
Magnuson Worldwide was represented at EyeforTravel Amsterdam by Alysha Smith, Global Head of Marketing, Advertising and PR for a keynote address on using tech and data to forge emotional connections with guests.
Giselle Foundation is a registered foundation with the government of Kenya working to improve the lives of children, youth and women — to better their health, education and economic opportunities. One of the most serious threats to their well-being is drugs. Giselle partners with Foundation for a Drug-Free World to reach youth with the truth about drugs.
Australia's more than five-year-old policy of indefinitely processing refugees and asylum seekers on the Pacific island nation of Nauru is having a disastrous effect on their mental health, leading many to contemplate or attempt suicide, Doctors Without Borders/Médecins Sans Frontières said in a report.
BitGive has launched GiveTrack 1.0, the latest version of the flagship Bitcoin donation platform designed to enhance transparency in the donation process and empower donors to give more through direct, evidence-based reporting. Launched at the Latin American Bitcoin and Blockchain Conference in Santiago, Chile, GiveTrack 1.0 offers numerous technical upgrades from the beta product, including a brand new technology stack and easy onboarding for donors and nonprofits.
The second Yidan Prize Summit took place in Hong Kong on December 10, featuring the Prize's second cycle of laureates – Professor Larry V. Hedges of Northwestern University and Professor Anant Agarwal of Harvard University and Massachusetts Institute of Technology – as well as an impressive line-up of the foremost minds in education, policy, business and philanthropy, who discussed how innovative educational approaches can better equip students for the future.
Mending Kids Lead Surgeon, Dr. Namrata Varma, and his 21-person team, provided 85 children with general ears, nose and throat procedures at the Shalom Foundation's Moore Pediatric Surgery Center in Guatemala City.
News about opportunities, initiatives
Soneva has launched the Soneva Foundation's partnership with Cleaner Climate to raise funds to distribute fuel-efficient stoves to families in Myanmar through the Myanmar Stoves Project.
Ebola has reached the city of Butembo and a number of more isolated areas that are difficult to access as the epidemic continues to spread through the Democratic Republic of Congo North Kivu province. Teams from the international medical humanitarian organization Doctors Without Borders/Médecins Sans Frontières are expanding work in the affected region to help bring the Ebola epidemic under control.
The Palau Pledge, the landmark eco-initiative that stamps an environmental Pledge to Palau's children directly into the passport of every visitor upon entry, celebrated its year anniversary by demonstrating the program's success and progress in the Republic of Palau and around the world.
As refugees, migrants, and asylum seekers continue to die in the Mediterranean Sea, European policies and obstruction tactics have forced the international medical humanitarian organization Doctors Without Borders/Médecins Sans Frontières and its partner SOS Méditerranée to terminate the lifesaving operations carried out by the search and rescue vessel Aquarius, the last dedicated rescue boat operating in the Central Mediterranean.
---
If you are interested in having your organization's news announced in the next News Bits, please send announcements or press releases to news@philanthropyjournal.com.