News about grants, gifts
The Parkinson's Foundation has awarded $60,000 in grants to fund six innovative research projects that involve people living with Parkinson's disease. The awards, the first of their kind in the Parkinson's community, support patient-scientist teams in their efforts to develop innovative models of patient engagement. The projects are supported through the Parkinson's Advocates in Research Leadership Awards.
On the heels of receiving its largest gift of $25 million last year, Roosevelt University is the beneficiary of nearly $17 million in major gifts and grants during 2017. A $6.84 million gift for Roosevelt's Chicago College of Performing Arts and nearly $5 million from three federal grants for new programs/scholarships are a few highlights of the successful year for fundraising at Roosevelt University.
Donors have raised over $50 million for "The Cosgrove Transformation Campaign," which was established to honor the career and legacy of Toby Cosgrove, M.D., the out-going CEO and president of Cleveland Clinic.
Supporters of solar across the country donated enough on #GivingTuesday to bring solar energy to East Oakland's Faith Baptist Church through a crowdfunding campaign from the solar nonprofit RE-volv. The campaign exceeded its goal of $14,400 in less than one day, a first for the organization, with the support of matching funds from the Leonardo DiCaprio Foundation.
Greater Texas Foundation is giving a grant of more than $3 million to the Texas A&M Foundation in support of the AgriLife Extension Rural Student Success Initiative.
Thanks to the generosity of Mercy Health employees, Mercy Health Foundation's annual employee giving campaign broke the giving record set last year. The annual campaign, named Mercy Strong: The Power of Care, ran for one week in October and gave Mercy Health's Cincinnati-based employees the opportunity to support mission-based causes important to them.
Life Science Cares gave donations of more than $300,000 to 19 social service organizations devoted to the health, education and development of disadvantaged and vulnerable populations in New England.
News about people, groups
The Hilton Prize Coalition, an independent alliance of the 22 winners of the Conrad N. Hilton Humanitarian Prize, recognized its 2017 class of Fellows for completing a Hilton Prize Coalition Fellowship with leading international non-governmental organizations. These 25 emerging leaders demonstrated high potential by making significant early-career contributions to their organizations and to the humanitarian field overall.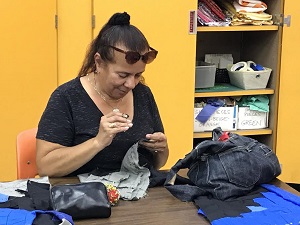 The Braille Institute Los Angeles hosted its Creative Vision Holiday Boutique December 4th-8th. The annual event featured more than 25 booths filled with handmade items for purchase, including soaps, jewelry, quilts, prints, clothing, accessories, ceramics, baskets, wood items, leatherwork and much more.
Healthcare Information and Management Systems Society (HIMSS) has recognized Parkland Health & Hospital System with the 2017 HIMSS Enterprise Davies Award of Excellence. The award recognizes outstanding achievement of organizations that have utilized healthcare information and technology to substantially improve patient outcomes and value.
PENCIL unveiled their first billboard for good in Times Square, helping NYC students on Giving Tuesday and beyond, thanks to their new partnership with OUTFRONT Media.
A Parkinson's Foundation study published in the December 1, 2017 issue of Neurology, the medical journal of the American Academy of Neurology, reveals that women with Parkinson's disease have significantly less access to caregiving support than men with the disease.
The United States Drug Enforcement Administration (DEA), the DEA Educational Foundation, and Discovery Education launched the second edition of the Operation Prevention Video Challenge – a peer-to-peer platform for communicating messages about the dangers of opioid misuse.
Barnard College has appointed Lisa Yeh as vice president for development, effective January 22nd, 2018.
Glenn Beck will partner with Operation Underground Railroad (O.U.R.) and install Tim Ballard as CEO of The Nazarene Fund to liberate the captive, to free the enslaved, and to rescue, rebuild and restore the lives of persecuted religious and ethnic minorities wherever and whenever they are in need.
The J. Paul Getty Trust appointed Steven A. Olsen as vice president, chief financial officer and chief operating officer of the Getty Trust.
Morris Animal Foundation welcomes Jay Mesinger, President and CEO of Mesinger Jet Sales, and Chuck Stephens, founder and CEO of Stephens & Associates Advertising, as the newest members of its Board of Trustees.
The National Audubon Society has added three members to its national board of directors. Former Deputy Secretary of the Interior Mike Connor, David and Lucile Packard Foundation officer Susan Packard Orr and Clemson University Professor J. Drew Lanham were voted in at the conservation organization's recent board meeting in Seattle.
Christiana Care Health System's Department of Orthopaedic Surgery provided a free knee replacement Thursday, December 7th to a local patient who cannot afford joint replacement surgery as part of Operation Walk USA 2017.
News about opportunities, initiatives
The Television Academy Foundation, the philanthropic arm of the Television Academy, is now accepting applications for its prestigious 2018 Internship Program.
The Jewish Funders Network is still collecting nominations for the annual JJ Greenberg Memorial Award, honoring foundation professionals engaged in grantmaking, age 40 and under, who have demonstrated extraordinary leadership in Jewish philanthropy, as well as the biennial Shapiro Prize for Excellence in Philanthropic Collaboration.
The Land Trust Alliance, a national land conservation organization working to save the places people need and love by strengthening land conservation across America, has endorsed the proposed federal Charitable Conservation Easement Program Integrity Act of 2017. Introduced by U.S. Rep. Mike Thompson of California, a Democrat, and Rep. Mike Kelly of Pennsylvania, a Republican, the bill's language makes clear that conservation easement donations, like other charitable donations, are not intended to be opportunities to generate a profit.
The Ralph C. Wilson, Jr. Foundation will develop and pilot a yet-to-be-named Center focused on nonprofit support, located at the corner of Woodward Avenue and East Grand Boulevard in the New Center/North End neighborhood of Detroit.
The Jewish Funders Network (JFN) will begin the JFN 2018 International Conference at Beit Hanassi, residence of Israel's President Reuven Rivlin. At a special opening reception on March 12th, President Rivlin will address conference attendees.
Blackbaud, Facebook and three enterprise nonprofits—JDRF, National Multiple Sclerosis Society and Susan G. Komen—worked closely on a
pilot program to take advantage of the new Facebook Fundraisers API, which was announced at Facebook's Social Good Forum on November 29th in New York.
Two towns in South Carolina have been selected for Community Heart & Soul®, launching a partnership with J. Marion Sims Foundation that introduces the community development model in the Southeastern United States.
---
If you are interested in having your organization's news announced in the next News Bits, please send announcements or press releases to news@philanthropyjournal.com.