News about grants, gifts
Gathering Place reported a $5 million combined commitment from HollyFrontier to the Park and to the beautification of the west bank of the Arkansas riverfront north of the pedestrian bridge. HollyFrontier joins nearly 80 donors who have taken part in an unprecedented public-private partnership with Gathering Place, raising funds totaling $465 million.
A six-person personal injury law firm based in Atlanta, Georgia, Butler Tobin, is giving away $100,000. The firm selected three of the top charities as ranked by GiveWell, an evidence-based charity evaluator. Butler Tobin will give $33,334 to each of the Against Malaria Foundation, Evidence Action's "Deworm the World Initiative," and GiveDirectly.
The Charles and Margery Barancik Foundation awarded a $50,000 grant to Southeastern Guide Dogs to support a new Intro to Guide Dogs Camp to be held on the school's Palmetto, Florida campus. Plans are currently being made to finalize the camp with its launch and first session planned for March 2019.
On November 29th, Red Sneakers for Oakley and End Allergies Together co-hosted the sold-out first annual fundraising event at Club Colette to support food allergy awareness and research toward a cure. Almost all of the attendees wore their "most spectacular red shoes or sneakers." Over $220,000 was raised at this inaugural event.
Ronald O. Perelman and Debra G. Perelman reported December 5th that the Perelman Family Foundation is making the lead gift to establish a new residential college at Princeton University. The construction of Perelman College will advance one of Princeton's highest strategic priorities — the expansion of the undergraduate population by around 10 percent.
Dr. Laura Schlessinger raised $32,000 by selling jewelry from her Holiday Boutique to help send children of fallen service members to college.
The Horace G. Fralin Charitable Trust and Heywood and Cynthia Fralin will donate a record $50 million to Virginia Tech to support research at the newly renamed Fralin Biomedical Research Institute within the evolving Virginia Tech Carilion Academic Health Center in Roanoke.
The McElhattan Foundation has announced its fall 2018 grant recipients. The funded projects, which total $1,645,000, will further the Foundation's mission of enhancing and preserving human life.
News about people, groups
Points of Light honored the life and legacy of its founder, President George H.W. Bush.
The W.K. Kellogg Foundation named and convened 20 individuals who will serve on a newly established Solidarity Council on Racial Equity.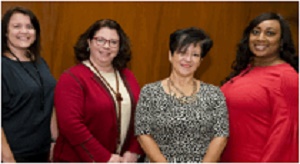 Jonas Philanthropies welcomed new additions to the Jonas Nursing and Veterans Healthcare (JNVH) team: Althea Hicks, New Grants and Projects Manager, and Mary Fiore, New Development and Partnerships Manager. They will report directly to Wanda Montalvo PhD, RN, JNVH Executive Director, who also joined the organization earlier this year.
The Atlanta Hawks hosted 60 teens, ages 13-17, from the Atlanta community for dinner and a special poetry workshop at the team's recently renovated community basketball court at Gresham Park on December 4th. Hawks first-year forward Omari Spellman joined the group and showcased his creative talent by presenting some of his own written work. Spellman's poetry is focused around social responsibility, doing good in the community, and social justice.
​​​​Out at the Fair®, the Fair industry's official LGBTQ+ festival, expanded to five Fairs in two states during 2018 and has initiated plans for its 2019 season.
The Blackbaud Index reported that overall charitable giving to nonprofits increased 4.1 percent while online giving increased 5.2 percent for the three months ending October 2018 compared to the same period in 2017.
The Rockefeller Foundation and Chan Zuckerberg Initiative named the 10 grantees of the Communities Thrive Challenge — a $10-million effort to expand economic opportunity for low-income and financially insecure people and communities across the country. The 10 grantees — from nine states and Puerto Rico — are narrowing the opportunity gap by helping individuals and communities overcome complex systemic barriers to success.
Foundation Source reported the findings of its recent survey regarding opinions of the regulations and tax incentives for two of the most popular charitable vehicles: private foundations and donor-advised funds.
The YMCA of Greater Boston added to its executive leadership team, with the recent hire of Paul Falvey, of Walpole, Mass., to fill the role of Chief Financial Officer. Falvey will oversee the strategies that enable the YMCA of Greater Boston to strengthen its finances and, ultimately, increase the Association's impact at each of the nonprofit's 13 community branches.
Oklahoma City Public Schools began implementing an early childhood literacy and family engagement program in its elementary schools that aims to develop long-term reading habits among children in Oklahoma City.
Local philanthropist, Marco Foster, is slated to host his eighth annual "The Grinch Who Gave Back Christmas" event benefiting the Brain Injury Association of Illinois. This year's event will take place on December 14th, from 8 PM – 11 PM, at The Underground Chicago. During the three-hour event, the nightclub will be transformed into "Whoville."
The Clark Hulings Fund for Visual Artists (CHF) has chosen 16 artist fellows for its 2019 Art-Business Accelerator Program. The selected artists will participate next year in CHF's innovative and comprehensive initiative, a yearlong virtual course of business study for visual artists that is designed to impart the necessary business training to succeed as entrepreneurs and make a complete living through the creation of their art.
Stella and Charles Guttman Community College, part of The City University of New York, was honored at Robin Hood's 29th annual Heroes Breakfast on December 4th along with two other organizations—Good Call and NEW (Non-traditional Employment for Women)—as exemplars of Robin Hood's work to combat poverty. Robin Hood selected Guttman alumnus Bobby Ashley as the face of Guttman for this award.
On December 3rd, the Muscular Dystrophy Association hosted their 22nd Annual Muscle Team Gala at Cipriani Wall Street in New York City with Muscle Team MVP and special guest Derek Jeter. The event raised awareness and funds for people living with neuromuscular diseases.
News about opportunities, initiatives
In an effort to raise awareness and funds for water projects in Africa, Houses With Hope CEO Ronna Jordan recently began a coast-to-coast walk across the U.S. carrying a jerrycan strapped to her back. Ronna wanted to illustrate what young girls and women go through in Africa each day just to fetch potable water. The event was launched in October at New York City and is scheduled to complete in Los Angeles on New Year's Eve of this year.
In honor of National Handwashing Awareness Week (12/2-12/8), Hilton Garden Inn and Hampton by Hilton announced a partnership with Clean the World, the world's largest organization to recycle hotel soap and bath amenities.
Orange County United Way selected Indi as the platform for hosting a social media challenge in support of its "Doing More" campaign. The challenge was launched at the organization's recent annual Rally for Change event before going public and is ongoing.
Amazon and Code.org have officially kicked off this year's Hour of Code: Dance Party. Millions of students all over the world will build their own dance party using computer science skills starting this week and throughout 2019. Amazon and Code.org specifically aim to inspire more than one million girls during this first week the Dance Party is available.
The Steve Fund and Kaiser Permanente are proactively addressing the mental health needs of community college students by convening a working group of community college leaders, investors, social innovators, and mental health experts to develop real-time, real-world technological solutions for community college students, with a particular focus on students of color.
The Mobility Unlimited Challenge supports innovation in smarter assistive technology to provide greater mobility and independence for people with lower-limb paralysis. This initiative is sponsored by the Toyota Mobility Foundation in partnership with Nesta's Challenge Prize Centre. It's a 3-year challenge that kicked off last November.
With the World AIDS Day 2018 Red Ribbon Campaign in full swing, DKT International continues its efforts to curb the spread of HIV/AIDS through its country and regional initiatives to increase condom use.
The UL Innovative Education Award is opening its 2019 application period on Monday, December 10th. Award winners receive gifts of $100,000, $50,000 or $25,000 so they can scale up their efforts and reach more youth in their respective communities.
The Harrington Value Institute Community Partnership Fund at Christiana Care Health System is taking applications for projects that advance scholarship and improvements in health by addressing social determinants of health.
Chester County Fund for Women and Girls has made the application for their Core Grants Program available on their website. The deadline to apply is January 11th, 2019 at 5:00 pm.
---
If you are interested in having your organization's news announced in the next News Bits, please send announcements or press releases to news@philanthropyjournal.com.