News about grants, gifts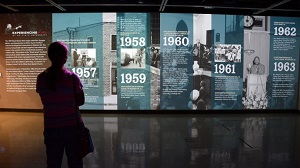 The North Carolina Humanities Council awarded $120,000 in grants to NC cultural organizations, including $20,000 to North Carolina State University's "The Virtual Martin Luther King Project."
The Triangle Community Foundation granted $971,000 in scholarships and awards to 183 students during the 2017 academic year to ensure that students in the community have access to higher education.
Wells Fargo will provide three nonprofit organizations with $3,000 in grants to recognize the efforts of team member volunteers in the Triangle region. Recipient organizations include Pasture Pals Equine Rescue, International Ballet Company, and the Triangle Literacy Council.
Durham Arts Council, the North Carolina Arts Council, City of Durham, and the SmART Resource Team have announced the selection of Olalekan Jeyifous as the artist to create the monumental Art Wrap for the Corcoran Street Garage, which is the first major public artwork of the Durham SmART Vision Plan.
The Carying Place held its Tenth Annual Labor Day "Race for Home" on September 4th. The event raised approximately $12,000 to directly benefit homeless, working families of the Carying Place.
In response to the damage caused by Hurricane Maria, Vaccine Ambassadors has mobilized funding to provide an emergency 4-month supply of routine vaccines for children and adults of Dominica. Vaccine Ambassadors will also provide five solar powered refrigerators to guarantee a sustained source of alternate power while the municipal power supply is restored.
News about people, groups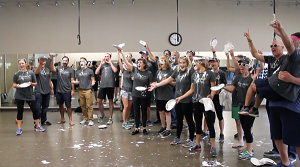 Share the Pie's favorite Raleigh celebrities gathered for a unique workout at O2 Fitness Seaboard to support the joint mission of StepUp Ministry and Alliance Medical Ministry to build stable families through access to employment and healthcare.
ArtsGreensboro hosted artist talks at GreenHill on October 25th with Two Artists | One Space artists Renzo Ortega and Antoine Williams, two artists who explore themes of black identity and the immigrant experience of displacement through multi-media installations.
Time4Change of NC held a Domestic Violence Awareness Community Event entitled "Voices for Change" on October 29th in Garner.
DHIC, Inc. held a Groundbreaking Celebration for Washington Terrace on October 24th in Raleigh. The groundbreaking marks the initial building phase of the multi-year plan to rebuild the Washington Terrace community in east Raleigh.
Armstrong McGuire & Associates welcomed two veteran nonprofit professionals to its team: Beth Briggs and Staci Barfield.
On October 26th, the Durham Parks Foundation hosted a TED Talk on Public Spaces at the Neighborhood Improvement Services in Durham, NC.
U.S. Sen. Cory Booker delivered a video address at Farm Sanctuary's panel discussion "Meet Your Neighbors: Exposing Factory Farming in North Carolina" on October 19th at The Carolina Theatre in Durham.
The North Carolina Community Foundation appointed John Bratton, chairman of Wake Stone Corporation, and Madhu Sharma, president of Triangle Interfaith Alliance, to the statewide board of directors.
The Junior Women's League of Smithfield held its Second Annual Touch-A-Truck fundraiser on October 28th in downtown Smithfield to raise money for the Me Fine Foundation.
News about opportunities, initiatives
The NC State Institute for Nonprofits and the Office for Outreach and Engagement will hold their next COMx event on November 2nd from 5:15-7pm at the Google Fiber Space in Raleigh 27603. The theme of this event is "Finding Partners to Launch or Scale Your Venture."

The Collider will hold a free presentation entitled "Leadership for Intractable Problems: Lessons from Navigating Complex Change in Africa" led by Wasfiri Consulting on November 3rd.
Registration is open for the 6th Annual Bike/Walk Summit in Wilmington, NC presented by BikeWalk NC. The event will foster collaborations between NC's various bicycling and walking movements, efforts, and endeavors.
Community Blood Center of the Carolinas (CBCC) will award a $1,000 scholarship to a local student this holiday season as part of its annual Holiday Hero scholarship program. This opportunity is open to any student in the region who hosts a successful blood drive with CBCC from November 15th to January 15th.
Applications are open for Sageworks Inmates to Entrepreneurs for their January cohort. Anyone who has previously been incarcerated or has a criminal background who is interested in learning how to start and run a business is encouraged to apply.
The Habitat ReStore of Asheville will soon be selling Guatemalan roast coffee from Dynamite Roasting Co. with proceeds from the sale of this coffee will go to Habitat for Humanity Guatemala for the installation of Healthy Home Kits (smokeless stoves, sanitary latrines, and water filters) in the homes of Guatemalan coffee farmers.
The United Arts Council of Raleigh and Wake County will hold several "Guess Who's Coming to Dinner?" fundraising events on November 2nd-4th throughout Wake County.
Registration is open for the AFP NC Triad Chapter's National Philanthropy Day Celebration on November 20th in Greensboro.
Workers and members of the Farmworker Advocacy Network will gather at the Episcopal Farmworker Ministry in Dunn, NC to allow families and friends to come together on October 29th to commemorate the lives lost by field, dairy, and poultry workers.
Triangle Family Services will hold its 2017 Gingerbread Benefit on December 8th, in celebration of the organization's 80th birthday at North Ridge Country Club.
Thanksgiving week, known as flotilla week in Wrightsville Beach, will highlight the 34th annual North Carolina Holiday Flotilla, featuring a massive 20-minute Zambelli Fireworks display and the 13th annual Airlie Gardens' Enchanted Airlie.
---
If you are interested in having your organization's news announced in the next News Bits, please send announcements or press releases to news@philanthropyjournal.com.