News about grants, gifts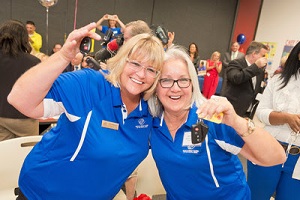 Toyota Financial Services gifted 29 vehicles to the Boys & Girls Clubs in the Greater Houston area to help with relief and rebuilding efforts after Hurricane Harvey. The cars will provide staff with better ground access for day-to-day operations like transporting kids to their facilities after school.
Consistent with Food Lion's focus on eliminating hunger in its local communities through Food Lion Feeds, the grocer is donating 7,100 meals to 71 local feeding agencies supported by Food Lion stores. This donation is the equivalent of more than 500,000 meals, which will remain in the local communities Food Lion serves.
The charitable arm of Bonnaroo Music & Arts Festival, Bonnaroo Works Fund, awarded more than $225,000 in grant funding for 2017 to over 30 philanthropic organizations with an emphasis on Tennessee-based nonprofits.
Philadelphia City Rowing received a $7,000 grant from the Fund for Children of The Philadelphia Foundation to support its mentoring and goal-setting programs.
The U.S. Department of Health and Human Services' Health Resources and Services Administration awarded a $1.39 million grant to Florida International University Nicole Wertheim College of Nursing & Health Sciences to implement the Advanced Nursing Education Workforce program.
Over $75,000 will be shared by 78 Illinois fire departments through the Illinois American Water's 2017 Firefighter Grant Program. The program awards grants to provide personal protective gear, communications equipment, firefighting tools, water handling equipment, training materials, and classroom programs.
Red Raider Outfitter, on behalf of its Texas Tech fans and the company's student staff, raised over $35,000 in donations through its 'Wreck Harvey' T-shirt campaign for South Texas Hurricane Relief.
Macquarie Investment Management raised more than $113,000 at its annual Macquarie Investment Management Charity Golf Classic to support Girls Inc. of Greater Philadelphia and Southern New Jersey. With the help of the Macquarie Group Foundation, this annual event has raised more than $2 million for well-deserving nonprofit organizations across the Philadelphia region in the past 13 years.
News about people, groups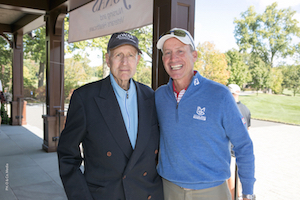 The Jonas Center for Nursing and Veterans Healthcare raised $235,000 to support veterans healthcare on October 3rd at its 6th Annual Jonas Golf Classic, bringing the total raised to $1.7 million since the first event in 2012.
The Lung Cancer Research Foundation and Free to Breathe have merged to make an even greater impact on closing the funding gap for lung cancer research. The Lung Cancer Research Foundation name will be retained to best reflect the combined entity's shared mission to improve lung cancer outcomes by funding research for the prevention, diagnosis, treatment, and cure of lung cancer.
Morris Animal Foundation launched a new brand strategy that elevates the Foundation's identity in support of its mission to bridge science and resources to advance the health of animals. The brand update comes as the Foundation prepares to celebrate its 70th anniversary in 2018.
N2 Publishing hosted its Annual Field Day on October 7th at Wrightsville Beach Park in Wilmington. The event featured a tug of war competition, relay races, a 3-legged race, a dizzy bat race, and more, and all proceeds went to A Safe Place to help the organization eradicate human trafficking on the East Coast and beyond.
Proactive Philanthropy and Keys for Hope are working together to convert the full spectrum of surplus equipment, from keys to lab equipment and other assets, into cash and reinvesting the proceeds into charitable organizations in the form of grants.
Noah Atencio, vice president of Community Impact for Community First Foundation in Arvada, Colorado, was awarded the 2017 Robert W. Scrivner Award for Creative Grantmaking. As the 2017 winner, Atencio was presented with a specially commissioned award sculpture as well as a $10,000 prize during a special luncheon.
The Virginia Environmental Endowment celebrated its 40th anniversary by recognizing 22 Partners in Excellence, including the Chesapeake Conservancy, the primary nonprofit partner supporting the Captain John Smith Chesapeake National Historic Trail.
The Harold Grinspoon Foundation (HGF) selected the Rose Community Foundation as one of only nine new community partners to join 43 others participating in the organization's national Jewish LIFE & LEGACY program. The program is the newest initiative of HGF that is investing $30 million dollars over a ten-year period to preserve vibrant Jewish life for future generations.
The 2017 winners of the Roslyn S. Jaffe Awards include: Appetite for Change, Home Works! and Found in Translation. A luncheon to honor them will take place on October 26th at Cipriani 42nd Street in New York City.
On October 11th, Secure the Call began to distribute emergency phones to individuals living in Texas, Louisiana, Florida, and Puerto Rico who have been affected by hurricanes Harvey, Irma, Maria, and Nate. The organization is giving away the phones free of charge, which will enable recipients to make life-saving calls to local authorities and emergency services.
News about opportunities, initiatives
The Global Down Syndrome Foundation will host its 9th annual Be Beautiful Be Yourself Fashion Show on November 11th in Denver, Colorado. Funds raised from this event will help support Down syndrome research, medical care, education, and advocacy.
The Children's Museum of Manhattan will host its annual fundraising event celebrating a year's worth of joyful environments and arts programs that promote fun and learning on October 25th in New York City. Proceeds from the night will help fund the programs and services the Museum offers.
Every October, Break the Silence Against Domestic Violence introduces a campaign dedicated to raising awareness around intimate partner violence. Its 2017 focus will be on empowering victims, their families, friends, and co-workers by providing life-saving information and encouragement to help them break free from domestic violence.
The Starbucks Foundation, in partnership with Indi.com, is conducting an Upstanders Challenge to grant $1 million to community organizations across the country. Organizations or individuals can film a 1-3-minute video, and the top eligible videos with the most likes, shares, and engagements by October 31st will receive $25,000 each for the organization highlighted in the video.
Maine's first-ever ChangeFest created by World of Change will chase a world record for coins collected for charity at a public event on October 28th outside L.L.Bean in Freeport. Organizers are asking families to start gathering spare change now to bring to the festival later this month.
The Elton John AIDS Foundation will be launching a new funding initiative to address HIV in black gay men and transgender individuals. The program will reach an anticipated 5,000 HIV-positive Black gay men and transgender individuals to learn about their HIV status and get linked to health care, social services and treatment.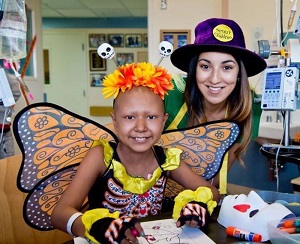 Spirit Halloween kicks off "Spirit of Children Week" on October 16th, which provides fun and funding to pediatric hospitals across the US and Canada. The organization will host nearly 100 Halloween parties in partner hospitals to bring normalcy and optimism to patients who otherwise wouldn't be able to participate in Halloween festivities.
Eric and Wendy Schmidt launched the Schmidt Science Fellows program in partnership with Rhodes Trust. Through an initial commitment of at least $25 million for the first three years, this innovative postdoctoral fellowship is the beginning of a broader $100 million effort to promote scientific leadership and interdisciplinary research over the next decade and beyond.
The Reflections of the Americas: New Acquisitions from the Collection of Univision opens on October 21st for Art Basel Season at the Patricia & Phillip Frost Art Museum. This major donation of 57 artworks features serigraphs, paintings, and mixed media works by 40 artists and masters from throughout Latin America and the U.S.
---
If you are interested in having your organization's news announced in the next News Bits, please send announcements or press releases to news@philanthropyjournal.com.