News about grants, gifts
The First Tennessee Bank of the Triangle awarded $60,000 to DHIC on September 23rd at the DHIC's headquarters to support affordable housing initiatives.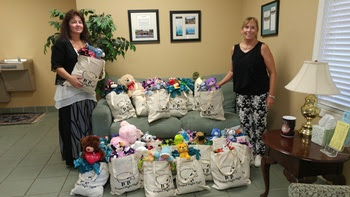 Nordson employees made fleece blankets, bought books and stuffed animals and bagged them all up to give to the children iof the Family Care Center of Catawba Valley.
The New Hanover County Community Foundation, an affiliate of the North Carolina Community Foundation, awarded more than $50,000 from its community grantmaking fund to local nonprofits.
The Transylvania Economic Alliance in partnership with the City of Brevard, Transylvania County and Transylvania County Schools was awarded a $1.1 million Golden LEAF Foundation grant to be used to implement a project for enhanced Science, Technology, Engineering and Mathematics (STEM) instruction at the high school level, and to construct a building on Ecusta Road.
The Me Fine Foundation raised over $220,000 at their signature fundraiser, the Me Fine Gala, held at City Club Raleigh on September 17th.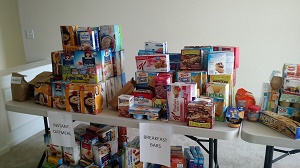 Members of HART (Health Affairs Round Table) provide 1000 breakfast bags to Meals on Wheels' most vulnerable clients who are in need of greater nutrition.
Greensboro Urban Ministry volunteers lead a fall food drive to collect non-perishable items to restock the agency's Food Pantry shelves. Thirty-nine congregations and civic groups will participated in the two-day event.
Madison County Community Foundation named the recipients of its community grant making fund. This year's organization's include: Community Housing Coalition of Madison County, Junior Achievement – WNC and Southern Appalachian Raptor Research.
Wilkes Community Foundation named their local grant awards from its community grantmaking fund. This year's recipients include Adult Enrichment Services of Wilkes, Wilkes Art Gallery and Yadkin River Greenway.
News about people, groups
The Asheville Habitat ReStore named the winners of its fifth annual ReStore ReUse Contest. The entries, ranging from furniture to trailers and everything in between, were built using predominantly reused materials.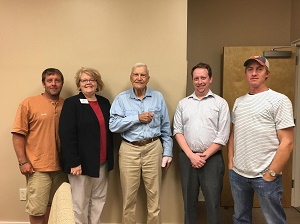 The Avery County Community Foundation announced the establishment of the Dewey Wells Citizenship Fund. The fund supports the development and promotion of good citizenship in and among young people of Avery County by awarding grants to organizations that work to instill the values of honesty, integrity, respect, resourcefulness and personal responsibility.
The Durham Rescue Mission hosted its 42nd Anniversary banquet on September 29th, in Durham and
raised over $60,000.
Operation North State held the Anglers' Casting Hope Challenge from October 2nd-8th, to raise awareness about veteran suicide; the challenge raised money for other festivals as well as for purchasing fishing gear for wounded warriors.
AVEDA Institute Chapel Hill hosted Beauty for a Cure on October 5th, in honor of Breast Cancer Awareness Month; proceeds benefited Cornucopia Cancer Support Center.
Hospitality House of Charlotte began its new "Meal to Heal" campaign on October 3rd, which will run through February 2017.
Infinite Scholars hosted a scholarship fair on October 6th, at the Emily K. Center in Durham.
News about opportunities, initiatives
The North Carolina Museum of Natural Sciences will open a new exhibit, "The Secret World Inside You" on October 22nd, which will focus on the human microbiome and human health.
World Beer Festival Durham 2016 is looking for volunteers on October 14th and 15th, at the Durham Bulls Athletic Park. Activate Good will be the official charity of the event.
The Mint Museum will host its 80th Anniversary Celebration and VIP opening of "Women of Abstract Expressionism" and "Fired Up: Women in Glass" on October 21st at the museum.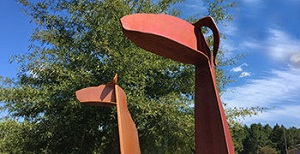 The Orange County Arts Commission will partner with Orange County Animal Services to create a new public art piece which will be housed at the Animal Services Center; donations for the projects will be accepted at Animal Services Online.
The Junior League of Raleigh will host the 8th Annual Couture for a Cause Fashion Show Fundraiser to benefit Activate Good on November 5th, at the Raleigh Convention Center.
Triangle Land Conservancy's will hold its 6th installment of their Wild Ideas series on October 11th on local farms and food. The event will feature presentations from 5 speakers and an expo of food system organizations.
Mallard Creek Presbyterian Church will host its 87th Annual Barbecue on October 27th, in Charlotte; funds will be used to supplement the church's building fund and support local and world missions.
Susan G. Komen North Carolina Triangle to the Coast will host its annual Research Luncheon on November 16th, to raise awareness of the impact of Susan G. Komen's National Research Program.
Volunteers needed at the 31st International Festival of Raleigh hosted by International Focus, Inc. from October 13th-16th.
Charlotte's Jazz Arts Initiative will kick off its 8th season of The Jazz Room at The Stage Door Theater on October 21st and 22nd.
The NC Triad Chapter of the Association of Fundraising Professionals will host the 24th Annual National Philanthropy Day Awards Luncheon on November 21st in Greensboro.
---
If you are interested in having your organization's news announced in the next News Bits, please send announcements or press releases to news@philanthropyjournal.com.