News about grants, gifts
Fielding Graduate University received a gift of $1,000,000 from 1998 School of Psychology alum Dianne Kipnes, PhD.
With a total of $21 million in new contributions from local donors during the year, the Community Foundation of Broward reported managed assets of $197 million as of June 30, 2018. The $21 million gifted in the latest fiscal year is a 61 percent increase over contributions recorded in the previous fiscal year. The new total of managed assets represents a nine percent increase. The Foundation awarded a record $11.8 million in grants during the fiscal year, a 27 percent gain that pushes the total to $108 million since 1984 founding.
Ability Beyond received a $50,000 grant from the PwC Foundation on September 20th.
Los Angeles Team Mentoring received a grant from the Annenberg Foundation to support the TeamWorks program, an after-school and weekend program for 6th, 7th and 8th graders, which utilizes a team model to promote positive self-image and attitude, build strong peer-to-peer and peer-to-adult relationships, and emphasizes the importance of teamwork and diversity.
The Boston Foundation and its donors gave more than $129 million to nonprofits in the 2018 fiscal year, which closed June 30th. As a result, the Foundation's grant making over the past 10 years has topped $1 billion.
Kenzie Hinson of Mount Olive, North Carolina has been awarded the 2018 Gloria Barron Prize for Young Heroes. Each year, the Barron Prize celebrates 25 young people from across the U.S. and Canada who have made a significant positive difference to people and the environment. Fifteen top winners each receive $10,000 to support their service work or higher education.
Employees at Philadelphia Insurance Companies are donating $350,000 to American Diabetes Association Camps, which deliver education and camp fun to kids in a medically safe environment
News about people, groups
Mercy Ships has relied on maritime professionals for 40 years during which time their service has made possible over 95,000 free surgeries. On World Maritime Day, September 27th, Mercy Ships recognized those who have volunteered and encourage other mariners to come aboard.
Julia M. Stasch, who has served as President of the John D. and Catherine T. MacArthur Foundation since July 2014, will step down in 2019.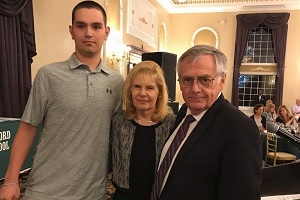 The Northern New Jersey Community Foundation's (NNJCF) Darren Drake Memorial Fund named New Milford High School graduate Christian Pavone the fund's first recipient of a $2,000 scholarship award. This NNJCF charitable, donor advised fund memorializes New Milford High School graduate Darren Drake, who died in a terrorist attack in New York City on October 31, 2017.
United Way hosted Medicare 101: Choosing a Health Plan That's Right for You on September 27th.
On September 23rd, Much Love Animal Rescue and Microsoft Lounge hosted the second annual Spoken Woof event, which featured animal rescue advocates who helped raise awareness for foster dogs in need.
David E. Krause, president and CEO of Parkland Foundation, will retire in Fall 2019. Krause has headed the Foundation since 2005.
On September 29th, Inside the Armoire hosted Cocktails & Comedy, a silent auction and comedy event held to benefit The Undies Project.
American University has launched the Sine Institute of Policy and Politics, which will bring together experts and top scholars in the field with students in research and scholarship to work on the nation's most pressing challenges in a way that promotes common ground and bipartisan policy solutions.
The Pardes Humanitarian Prize in Mental Health will be presented at the Brain & Behavior Research Foundation International Awards Dinner on Friday, Oct. 26, at The Pierre, in New York City. Reception at 6:30pm; Dinner/Awards Ceremony at 7:30pm.
News about opportunities, initiatives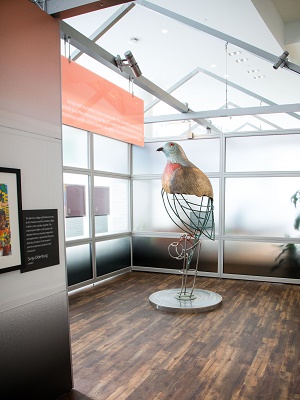 Northwestern Mutual's Giving Gallery seeks to transform the way many of us think about philanthropic giving. The exhibit, Giving Gallery: Community in Process features 26 pieces of original artwork, each created to tell the story of a specific nonprofit organization. Throughout the experience, attendees are encouraged to act, and get involved with the organizations that move them personally through donations, volunteer opportunities and more.
A Leg To Stand On's Rocktoberfest in New York will take place on October 25th.
Inter-Faith Council for Social Service's 4K Run/Walk benefitting Homestart will take place on October 6th.
The Animal Disaster Funding Collaborative is making special grants available to nonprofits and government agencies who are assisting animals and pet owners impacted by Hurricane Florence. Groups participating in the Collaborative include A Kinder World Foundation, the American Society for the Prevention of Cruelty to Animals, Petco Foundation, Petfinder Foundation, and PetSmart Charities.
On October 5th, Habitat for Humanity of Snohomish County will hold its 3rd annual Bids for Builds auction to benefit the building of 25 homes for low income families in Snohomish County.
On Tuesday, October 16th, PENCIL will host its annual PENCIL Gala, this year titled "Writing Our Stories Together."
Food Tank will host the 2nd Annual Food Tank Summit in NYC on food loss and food waste on Oct 3rd at NYU Law School in collaboration with New York University, Natural Resources Defense Council, the Rockefeller Foundation, ReFED, and Hunter College.
WE and the College Board are collaborating to incorporate service learning into all AP courses. The College Board gives students the chance to earn college credit and placement through the AP program, which now includes AP with WE Service. Through AP with WE Service, College Board's network of 160,000 teachers and 2.8 million students across 85 countries will have the opportunity to create meaningful impact in their local and global communities.
---
If you are interested in having your organization's news announced in the next News Bits, please send announcements or press releases to news@philanthropyjournal.com.